Boris Diaw makes a difference for Spurs in Game 5
Boris Diaw's combination of size, skill, and basketball IQ gives the Spurs a weapon OKC doesn't know how to match.
More postseason coverage: Playoff schedule, results | Latest news, notes
Boris Diaw was once waived by the Bobcats. That's how far his stock had fallen. He was considered out of shape, out of focus, and generally speaking a lost cause. But the Spurs recognized his skillset and knew what he could do from his years battling them with the Suns. So they picked him up, and in two years, he has evolved to become a pivotal piece of what the Spurs do.
In San Antonio's 117-89 beatdown of Oklahoma City on Thursday, Diaw was crucial to the Spurs getting back on track. With Diaw on the floor, San Antonio scored 138 points per 100 possessions, a crazy mark. The Spurs are never going to win a defensive slugfest with the Thunder's athleticism, they have to create points consistently in high efficiency situations. Diaw's combination of size, deceptive speed, and skill in both passing and shooting situations caused havoc for Oklahoma City. He punished them by stretching the floor, he swung past Kendrick Perkins, he did a lot of a lot of things.
The Thunder's offensive rebound rate dropped seven percentage points with Diaw on the floor in Game 5. He's not a guy who bangs down low, but he does open things by stretching the floor and keeping defenders occupied, and he is strong. He can post up and pass out reliably. The Thunder have issues trying to combat that.
Diaw's never going to have his name on the marquee, but for a player who so often defied convention because of his skill and body type, Diaw in this latter part of his career is no longer searching for an identity. He just fits with the Spurs. He's their Diaw.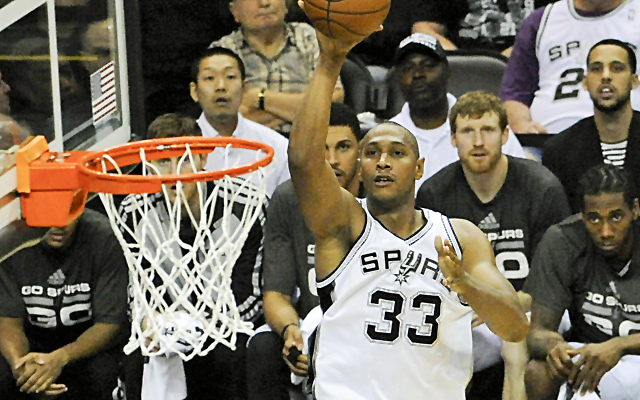 Nerlens Noel is now being represented by Rich Paul of Klutch Sports

Steve Kerr opens up about his back issues and more

OJ Mayo, banned from the NBA for positive drug test, is considering playing overseas
The King? 'LeBron, it turns out, is Aquaman,' or so the account via Dwyane Wade's wife goe...

From Penny to Thunder Dan to Pistol Pete to Agent Zero, guys who would be better in 2017

Griffin said recently he thinks it's more likely that LeBron James goes to New York than L...