Bosh on Pacers' tactics: 'Our guys are getting punched in the face'
After another physical matchup between the Heat and Pacers, LeBron James and Chris Bosh took issue with the Pacers' physical play and the officiating.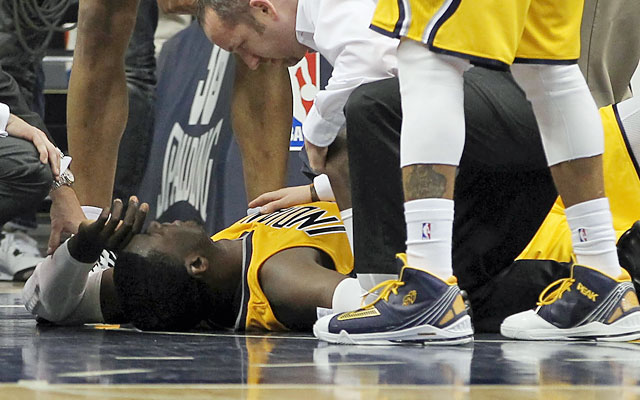 More Heat-Pacers: James called for flagrant | Wade, Stephenson tangle | Recap
INDIANAPOLIS -- If the Miami Heat have grown bored with the regular season portion of their push for a fourth consecutive trip to the NBA Finals, they have not gotten tired of the gamesmanship that is essential to getting there.
Right on cue after an 84-83 loss to the East-leading Indiana Pacers on Wednesday night, LeBron James once again took issue with how hard fouls on him -- and hard contact dealt out by him -- were officiated.
That must mean that it's March, and the playoffs are right around the corner. Around this time last season, James raised similar concerns about the physical play of the Chicago Bulls, a team Miami would see in the postseason.
"I don't want to fall into the pit of what's going on," James said, when asked in the visiting locker room if he felt he was being targeted by the Pacers when he went to the basket. "You see me and Blake Griffin, we take some hard hits. They call it how they want to call it. It's very frustrating though. Very frustrating. As a player, you play the game the right way and sometimes ... "
His voice trailed off. But his teammate, Chris Bosh, took it from there -- doing what he couldn't do when James received an inbounds pass with two seconds left and passed to Bosh for a potential game-winning jumper that missed badly.
"Our guys are getting punched in the face, man," Bosh said. "You know what I'm saying? We're getting punched in the face and clotheslined out there. ... I guess maybe we need to really decipher what flagrant means? Because I don't feel that they were going for the ball in plenty of situations, but especially in those two situations."
The plays Bosh was referring to were common fouls called on Luis Scola and Ian Mahinmi when defending James. Mahinmi wrapped up James on a drive to the basket, reaching for the ball with one hand and around James' shoulder with the other after getting beat on a drive. Later, Scola swiped across James' face and his arm while defending a jumper. Neither play was ruled a flagrant; in my book, Mahinmi's could've easily been a flagrant-one because he grabbed James around the shoulder and neck. Scola's contact with James' recently broken nose appeared to be inadvertent.
"When you can come down and clothesline somebody, it's open season," Bosh said. "People are going to get hurt. We're going to have to revisit what flagrant foul means. ... Somebody got punched in the face and clotheslined. I guess it was a play on the ball."
After the Scola play, James drove to the lane into Roy Hibbert, and his elbow connected with Hibbert's chin as he pump-faked and tried to finish over him. James was called for a flagrant on that one.
"I made a basketball play," said James, who had 38 points on 11-of-19 shooting, eight rebounds and five assists. "If I could jump in the air and elbow somebody in the face in the air and still try to finish a play, I must be a Kung Fu master or something. I mean, his face happened to hit my elbow or my elbow happened to hit his face. I mean, that's crazy."
The physical play that is to be expected between the East's top two teams -- now separated by two games in the loss column -- was only one of the many layers that will add intrigue to their anticipated collision in the conference finals for the second straight year.
The Greg Oden experiment as a rim protector against Hibbert was decidedly ineffective; Oden started the game and was torched by Hibbert, who had 13 of his 21 points in the first quarter. With Ray Allen out, Erik Spoelstra gave heavier-than-usual minutes to Rashard Lewis and Udonis Haslem, who combined for seven points and eight rebounds.
"They need to be in the rotation," James said.
After George Hill missed two free throws with 2.3 seconds left, Spoelstra called what he admitted as an ill-advised play after a timeout with two seconds remaining. Lewis inbounded the ball to James, who passed to Bosh on a flare for a missed jumper.
"There's not much you can do with two seconds," Bosh said.
The Pacers' Lance Stephenson was up to his old immature tricks, the likes of which will cost Indiana in a playoff showdown with Miami. Stephenson and Wade were assessed double-technicals in the third quarter for shoving and staring each other down. After Stephenson connected on a driving layup past Wade to give the Pacers a 76-72 lead with 5:01 left in the fourth, he was whistled for a second technical -- prompting a mandatory ejection -- for staring at Wade and taunting him. Wade stared back, smiled and then was all too happy to point out Stephenson's antics to official David Jones.
There's no defending Stephenson's lack of awareness in that situation, but the second technical was a stretch. Earlier, after a sequence that saw he and James bumping and chattering at each other, James was fouled by Stephenson, converted the basket, and dropped the old "and-one" sign in Stephenson's direction -- letting it hang there for all to see. No technical was called.
What does it all mean? What does a March showdown between the Pacers and Heat portend about the one that everyone knows will happen in May?
"Nothing," James said.
And that's about right, except for one thing: There will be plenty of drama.
We've got you covered for all the scores and highlights from Sunday's NBA games

The Cavs superstar compared Kaepernick to Martin Luther King Jr. and Muhammad Ali

The Warriors coach isn't surprised that the president and LaVar Ball are in a war of words
Kyle Kuzma is tired of how his teammate Lonzo Ball is being treated

The Warriors used a huge third quarter to come back from a 23-point deficit to get the win

Three takeaways from Golden State's 24-point rally past the Sixers