Boston Celtics legend Bill Russell recovering after open heart surgery
Boston Celtics legend Bill Russell recently underwent open heart surgery in August and is recovering in Seattle.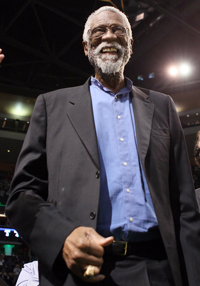 Bill Russell recently underwent open heart surgery.
(Getty Images)
Boston Celtics legend Bill Russell revealed that he underwent open heart surgery in August.
In an NBA.com interview, the Naismith Hall of Fame center and 11-time NBA champion stated the the surgery was "not life threatening" and that he's recovering in Seattle.
I had a valve in my heart that had to be replaced and the way you replace it is by open heart surgery. Well, open-heart surgery sounds difficult but this was not an emergency. It was something I had to do. The same operation in an emergency is life threatening. This was not life threatening.

They took the valve out and replaced it. It only took a couple of hours to do that. I talked to the doctors after and they said they were pleased with the procedure. They said I would be sore after a while and after that, they said I would feel better than I ever did at this point.

The most I can do now is walk but the two things I enjoy the most, I can't do this summer. Drive my car, which every summer I drive across the country at least twice, and play golf every day. I can't do either one of those for a while.

There was never ever any danger. The reason this was routine was because I was living a clean lifestyle. No drinking, smoking, etc. I'm in good shape.
Russell, 78, is regarded as basketball's all-time greatest champion, winning 11 NBA titles during his playing career and earning a gold medal with Team USA to go along with two NCAA championships at the University of San Francisco. In addition to his five MVP awards, he was named to the All-Star team 12 times. Russell also served as a player/coach and, after he retired, was head coach for the Celtics, Seattle SuperSonics and the Sacramento Kings.
Russell retired as a player in 1969 after 13 seasons. His No. 6 jersey was retired by the Celtics in 1972 and he was inducted into the Naismith Basketball Hall of Fame in 1975. The NBA's Finals MVP award is named in his honor, and he was on hand to present it to Miami Heat forward LeBron James back in June.
President Barack Obama presented Russell with the Presidential Medal of Freedom in 2011.
"Bill Russell is the former Boston Celtics' Captain who almost single-handedly redefined the game of basketball," a statement from the White House read. "Russell led the Celtics to a virtually unparalleled string of eleven championships in thirteen years and was named the NBA's Most Valuable Player five times. The first African American to coach in the NBA—indeed he was the first to coach a major sport at the professional level in the United States—Bill Russell is also an impassioned advocate of human rights. He marched with Dr. Martin Luther King, Jr., and has been a consistent advocate of equality."
LeBron's minutes are a common point of discussion this season

Kevin Garnett thinks a one-and-done rule change would benefit schools more than anything e...

The Warriors are light years ahead, but James Harden is off to a red-hot start with the Ro...
Victor Oladipo is playing the best basketball of his career, and it all came together against...

McCollum hurled a clever insult at the French forward

Hosts Bill Reiter and Reid Forgrave are joined by Blazers guard CJ McCollum