Brad Stevens: No timetable for Rajon Rondo return from ACL surgery
Celtics coach says Rajon Rondo doesn't have a timeline for his return after ACL surgery.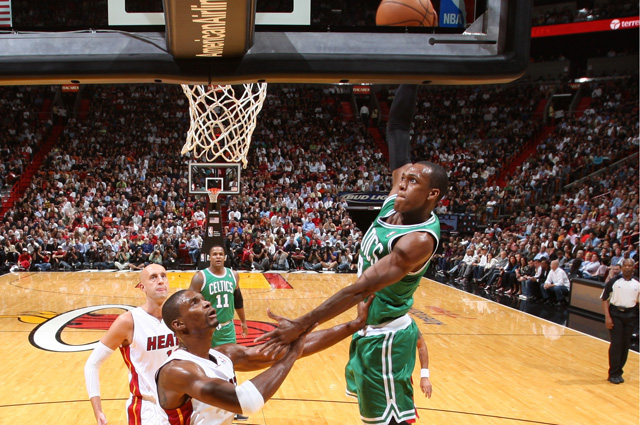 Celtics coach Brad Stevens told reporters this week that there is no timetable for the return of Rajon Rondo from ACL surgery. From the Boston Herald: 
"I have never heard a timeline from him and the latest that I've heard from our medical staff is that he's progressing well," Stevens said at TPC Boston during the Deutsche Bank pro-am on Thursday. "Our staff has spent a little bit of time with him off site here as well as we followed up on his rehab when he's been away.

"He will be back in town soon. He's working. I know that for a fact. He's working hard to get back as soon as he can and I'm sure he will."
via Celtics Insider | Boston Herald.
Kind of weird, to be honest, considering Rondo was taking free throws before games in the Celtics' first-round playoff loss to the Knicks. Rondo's tear was considered to be a partial tear and not a full-tear, despite his inability to return by the end of the season. 
Forward Jared Sullinger recently said that he hoped Rondo would return by December, after most people thought he'd be back by the season opener. Without a set timeline, that casts more doubt on whether the mercurial point guard will be good to go sooner rather than later. 
But considering this is a guy who played with a dislocated shoulder, and was ready to play on th knee before doctors discovered the injury just minutes before the Celtics tipped off vs. the Heat last season, I'm still betting Rondo will be back on the court before the most skeptical estimates predict. 
Two of the league's young, up-and-coming squads will square off on Tuesday in Minneapolis

Kawhi Leonard is set to make his season debut for the Spurs

Lonzo Ball will make his Madison Square Garden debut
Leonard, who hasn't played this season due to a quad injury, may return with more skills than...

James, who adjusted his shooting mechanics, is on par with Steph Curry's all-time great 2015-16...

Jordan Bell had himself a night against Portland