Bradley Beal says Wizards' goal next season is Eastern Conference Finals
Wizards guard believes team is ready to take the next step.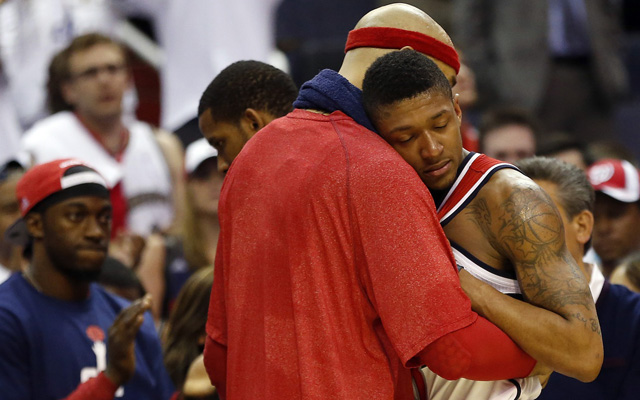 More Offseason Analysis: Coaching changes, news | Free Agency | Draft
Wizards guard Bradley Beal had a strong season in his second year, as the Wizards made the playoffs for the first time in almost a decade and advanced to the second round. In an interview with SLAM Online, Beal talked about the Wizards' future, and what they're setting the bar at. 
SLAM: If the whole team comes back intact, do you think we've seen the full potential of this Wizards squad yet?

BB: Hopefully, we can get further next year than we did this year. We know, we've got to use this as a stepping stone for us. The Eastern Conference Finals is a goal we're going to have moving into next season. Hopefully we can build off what we accomplished this past year and get off to a great start again.
via Q+A: Bradley Beal.
There are two ways of looking at this. One, the East is horrible as Ken Berger lays out here. The Wizards made the second round, and if they had a little more experience, might have toppled the Pacers. Why can't they get there if they keep the core intact and John Wall and Beal improve? 
The second is, "Let's slow down a bit, kid." The Bulls, who Washington took out in the first round, were missing a guy with a flower for a last name, and were supposed to have tanked out the year; that's why they traded Luol Deng. Next year, there's a good chance Brooklyn is better with another year together plus Brook Lopez getting healthy, the same for Toronto especially if it can find a few upgrades, Miami and Indiana aren't going anywhere (most likely), Chicago will have Rose back (maybe) and then you've got the draft and how it could change things. Plus the Pistons will have an actual coach. 
It's good to have that goal. It's good to set the bar ahead of where you finished last year. It's good to come in with that attitude. But for everyone else, maybe just hoping the Wizards can make it back to the postseason should be enough. 
HT: Bullets Forever
Giannis skipped EuroBasket last summer, and has missed four games this season with knee so...

Some of the best and worst from the league as we head into the home stretch of the season

Cuban acknowledged that tanking is 'brutal' and that he will no longer do that after this...
Cho has been the GM in Charlotte since 2011

Fergie: 'I'm a risk taker artistically, but clearly this rendition didn't strike the intended...

Victor Oladipo had a successful R&B album over the offseason and Jamie Foxx is a fan