Bradley Beal wore No. 23 for ... LeBron James, not Michael Jordan
Would you like to feel old? Bradley Beal, who is 20, grew up wearing No. 23 to honor his favorite player. But it's not Michael Jordan.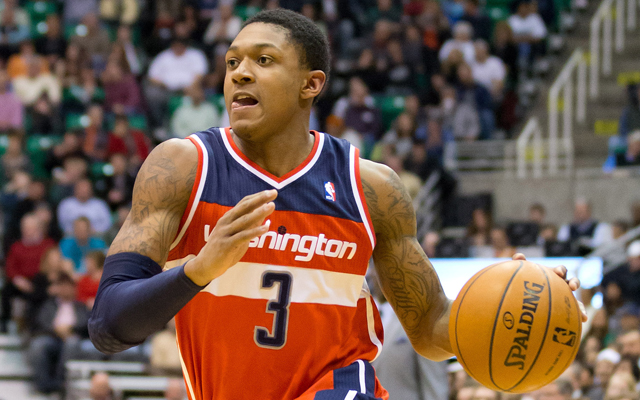 Number association: 23 -- who do you think of? 
If you're Wizards' guard Bradley Beal, it's not Michael Jordan. It's LeBron James. 
Beal, who wears No. 3 for the Wizards, had worn No. 23 for most of his basketball life. Not to honor His Airness. But for King James. Via the Washington Post:
"I never watched Michael Jordan growing up," said Beal, in a recent episode of Wizards Magazine. "I grew up, '23' was LeBron. I always knew about Michael Jordan, but I can't necessarily model myself after him. I always admired LeBron and the way he played all the time when he was in Cleveland."
No. 23 isn't retired for the Wizards, but no one has worn the number since Jordan retired. So Beal decided to go with 3. 
When Jordan won his last championship with the Bulls in 1998, Beal was four years old. When Jordan retired with the Wizards in 2003, Beal was 10 years old. That's the same year LeBron broke into the league and started his world domination. So really, while it seems like we should all shake Beal and wonder what's wrong with him, his childhood wasn't about MJ. It was about LeBron, and Kobe Bryant. 
James obviously wore No. 23 because of Jordan before switching to No. 6 with the Heat for various reasons, one being he likely wanted to get out of that shadow. 
But all of this is so surreal. It's happening to my generation, the kids raised on MJ. Just like my dad tries to explain to me how wonderful John Havlicek and Julius Erving were, players like Bradley Beal need the same lesson for Michael Jordan. I think I'm going to be sick. 
The Rockets beat the Warriors 116-108 on Saturday night

The Cavaliers gave up 148 points in their loss Saturday afternoon to the Thunder

Blatt made the comment before coaching in the All-Star Game in Turkey
We've got all the scores, highlights and news from all of Sunday's games

Is this rock bottom for the Cavaliers because it sure feels like it is

Wade, as he's done so many times in his career, threw it up to LeBron for the thunderous f...