Brandon Jennings still has the Bucks in six games over the Heat
Even down 2-0 in the series against the Miami Heat, Brandon Jennings is still picking his Milwaukee Bucks in six games.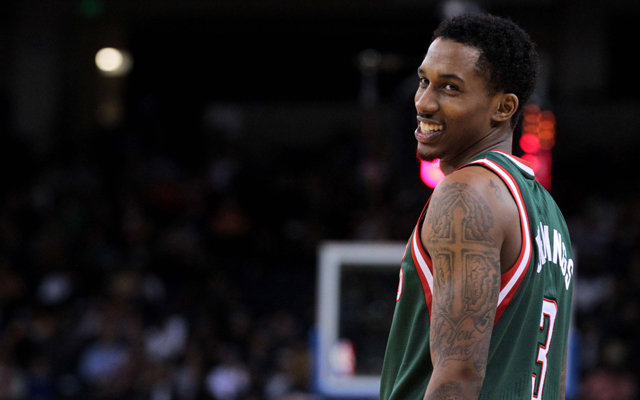 You need your best players to have confidence in the team. If they have confidence and believe they'll win a game or series, then that belief would ideally trickle down to the rest of the team and give everybody the proper mind-set to compete.
Before the first game of the series between the Milwaukee Bucks and Miami Heat was played, Brandon Jennings picked his team to beat Miami in six games. And that's what he should have done. If someone is going to ask him which team he believes will win the series, he'd be a fool to say his team was going to lose, even if they have no chance. That's not leadership. 
So he picked the Bucks in six games and now finds himself down 2-0 in the series. But that's not keeping him from believing in his prediction that is hanging on by a mathematical thread right now. Jennings is still picking his team to win in six games, even if each answer has come with a sly smile creeping across his face.
Whether or not you believe his prediction is realistic, everything that he's saying to Craig Sager does really seem to make a lot of sense. They lost the first two games but were relatively competitive deeper into each game than most thought they'd be. Game 2 didn't get away from them until a 12-0 run by the Heat to start the fourth quarter.
The Bucks also haven't backed from the Heat once in the last two years. They've remained pesky. And because they don't seem to know they shouldn't be able to stay in games against them, they were able to steal a game or two. Maybe they can steal Game 3 on Thursday night and start building some momentum toward making Brandon Jennings the next Ms. Cleo.
One thing that I do find interesting is at no point has Jennings publicly entertained the thought of winning this series in seven games. He seems to believe the only option is to end the series in Milwaukee in Game 6 and not fight for an upset in Miami for Game 7. 
(H/T - Pro Basketball Talk)
The Rockets beat the Warriors 116-108 on Saturday night

The Cavaliers gave up 148 points in their loss Saturday afternoon to the Thunder

Blatt made the comment before coaching in the All-Star Game in Turkey
We've got all the scores, highlights and news from all of Sunday's games

Is this rock bottom for the Cavaliers because it sure feels like it is

Wade, as he's done so many times in his career, threw it up to LeBron for the thunderous f...