Breaking down the handicap odds for MVP: LeBron James vs. the world
Heat star the favorite once again to win MVP, but what are the odds on the rest of the field? We break it down.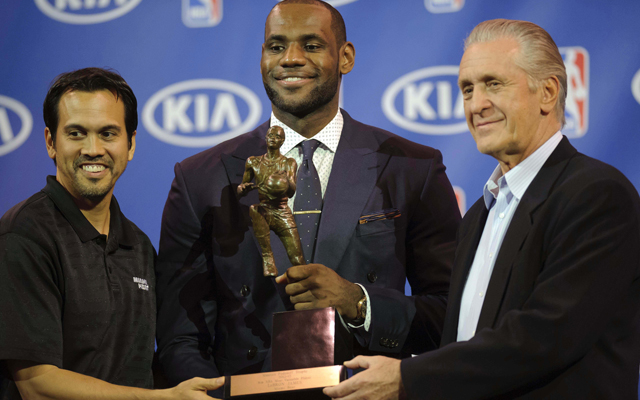 The NBA season is right around the corner, and that means it's time to start talking about an award decided by a small group of people with often very flawed approaches to deciding the Most Valuable Player.
But what do the oddsmaker say? We decided to break down what two sites, SportsBook.com and Bovada.lv put the MVP race at and what that means for their candidacy. This is less of a betting guide and more of a "what does it say that these are the odds?" kind of deal. First, the odds, including the inevitable at the top:
LeBron James, Miami Heat: 5-4 SB, 3-2 BV
Kevin Durant, Oklahoma City Thunder: 4-1 SB, 4-1 BV
Carmelo Anthony, New York Knicks: 12-1 SB, 10-1 BV
Derrick Rose, Chicago Bulls: 12-1 SB, 11-2 BV
Chris Paul, Los Angeles Clippers: 12-1 SB, 10-1 BV
Dwight Howard, Houston Rockets: 25-1 SB, 14-1 BV
James Harden, Houston Rockets: 25-1 SB, 20-1 BV
Kobe Bryant, Los Angeles Lakers: 25-1 SB, 25-1 BV
Tony Parker, San Antonio Spurs: 12-1 SB, 25-1 BV
The King of Favorites
You will not be surprised to learn that LeBron James enters the season as the odds-on favorite to three-peat and earn his fifth Most Valuable Player award. That James is the presumptive favorite cannot shock anyone, he's been the best player in basketball, consistently, arguably for the last five years.
He's in his prime, has no significant injury limitations, plays on the defending champion and widely acknowledged best team in basketball and generally is as close to a superhuman physically as we may have ever seen. Call that hyperbole, but don't call his odds for MVP.
The two big reasons to find other candidates appealing?
1. Voter Fatigue: The Jordan Conundrum. Essentially, the voters have a tendency to let their creative minds wander. They get bored voting for the same guy every year. Eventually the idea comes that other players who have been deserving but suffered under the era of a historically dominant player deserve a crack. Charles Barkley, Karl Malone, you know the names.
You can make a fairly convincing argument that James has already lost one MVP (2011) on account of voter backlash from the Decision. This would be more of the "We no longer feel it's necessary to laud your accomplishments; they speak for themselves, so let someone else get some hardware" persuasion. There's a threat of that again.
2. Coastal erosion: James has blistered the league over the past six years, won the past two MVPs, the last two NBA championships, the last two Finals. He's out of things to prove to people. His motivation now comes internally. And while that's a stronger, happier, more reliable source of motivation, it also pales for things that seek out public approval.
In short, James could gear back on the accelerator this year to set up another title run. He's got no reason to peel out for a record winning streak. He's done it. He doesn't need to secure a top seed. That could mean he plays fewer games, or just doesn't dominate to his usual level. He'll have contenders to fill the void if he leaves the door open.
The Heirs Up There
Durant's odds aren't sexy, but he does fit best into the "Let's reward the other guy" category. Durant finished second in voting last season, and is widely regarded as the league's second best player. He doesn't have the "He's getting older and we need to reward him" facet, but there's really not a leader under that parameter. I maintain that the only way Durant should win the award over a max-strength James is if he leads the league in scoring averaging 50-40-90 from the field, 3-point line, and free throw line respectively. No player has done it in history. Durant came close last season but Carmelo Anthony edged him in fewer games with a blistering hot April.
Speaking of the Knicks' commander in chief, Anthony's kind of a sneaky bet at 12-1. He did get one first-place vote last year after all, and clearly... (giggle) (guffaw). Sorry. Couldn't hold a straight face. He didn't deserve a first place vote last year. But he could this year, if Durant struggles without Westbrook until he's healthy, and the James falloff occurs. Melo playing in New York helps. Honestly, the best thing for his chances would be if the Knicks were worse. If he's able to fall into "so good he makes a bad team better" land, he's got a great position to stand on.
Metrics are almost certainly not going to back up Anthony, but the narrative approach is strong, and that block still holds the majority of the voting bloc.
But if you're looking at Melo, there are more attractive options.
Derrick Rose has won it before, so he's got the legitimacy checkmark. His comeback from the traumatic injury will cause the narrative category to overfill and spill all over. And if Rose has added better range and efficiency to his game, that could quell the hesitation from the stats contingent. In both seasons Tom Thibodeau and Derrick Rose worked together, the Bulls finished with 62-win seasons (extrapolated in 2012 for the lockout-shortened season). 62 wins, a dominant, heroic return, and increased efficiency?
12-1 doesn't seem like such a longshot, eh?
It's interesting that Bovada has Rose with shorter odds than Melo. But given the way preseason has gone for Rose, you can't blame them.
Chris Paul has got a pretty sexy spot here. 10-1, same odds as Melo at Bovada, and Melo and Rose at Sportsbook. Paul use big market (LA) and team wins to get there. The Clippers have a great shot at getting the No. 1 seed in the West this season. If that happens, Paul could wind up filling void. He's been widely recognized as the best at a stacked position for years. If James isn't winning it, he should have as good of odds as anyone, honestly, Durant included (factoring Westbrook's injury).
Long In the Tooth (Of Odds)
I'm legitimately stunned that Tony Parker has as good of odds as he does. Don't get me wrong, he's terrific, and deserves way more credit for what he does. But if we're looking at how the voters vote?
Big market: (no check)
Undisputed best player on his team: (no check; you can make a big argument for Tim Duncan)
Surprising improvement in wins (no check; everyone expects the Spurs to win 55-plus at least)
Dazzling game: (no check; Parker's incredible, but not for the average fan -- it takes a lot of time watching him to realize how good he is)
Let me put it this way. If (God forbid) James, Durant, Melo, Paul, and Rose all went down with injuries or disappeared from the planet in some sort of basketball rapture tomorrow, Parker would have worse chances than the guys below.
James Harden: Harden put in an MVP-level November last year and was worth of a few third-place votes last year, honestly. But Harden's candidacy is compromised by Dwight Howard, and vice versa. If the Rockets nab the 2-seed, even, Harden will get some looks but everyone will say "But what's the difference between this year and last year?" and say Howard.
Likewise, Howard will face one of the problems James faced in 2011, along with everyone hating him post-Decision. There's a point where everyone goes "Yeah, but look at the team he joined," despite the fact that if he succeded with the Lakers he'd have a better shot.
Hey, I'm not telling you the voters always make sense, I'm telling you about their patterns.
It's incredible Kobe gets the respect he does. Season compromised by likely missing a few games either to start the year or for rest. A bad team, and we mean bad, around him. And a historic bar his illustrious career has set for him. Yet, Bovada has him with the same odds a Parker. Stunning. He could win with a sentimentality vote from a voter block that has long loved him and prefers him to the modern star, combined with the heroic comeback. But it would take a truly incredible season in the wins and stats department.
Some quick hits before we go:
Stephen Curry is one name I keep coming back to, at 30-1 SB, 33-1 BV. The Warriors have an outside chance at the No. 1 seed this year, Curry plays in a major market on the coasts, and everyone loves his game: guy who makes shots. Versatility will never go as far as scoring, and Curry could blister in that department if healthy.
Weirdest candidates? Bovada's 33-1 for Blake Griffin, SportsBook's 25-1 for Rajon Rondo, Sportsbook's 30-1 for Paul George, Bovada's 50-1 for Anthony Davis.
SportsLine's advanced computer model simulated Friday's Bulls-Warriors game 10,000 times

Okafor has played just 25 minutes this season for the 76ers

Is Boston confident that it can erase any deficit, or concerned that it constantly needs t...
Ball and Simmons are having very different rookie seasons, but they could lead to the same...

Keep it right here for all you news, notes, scores, and highlights across the Association

Warriors' forward doesn't understand the reasoning behind the all-too-common double technical...