Brent Barry kissed David Stern, won $100 from Tim Duncan
Brent Barry kissed David Stern and won some cash from Tim Duncan.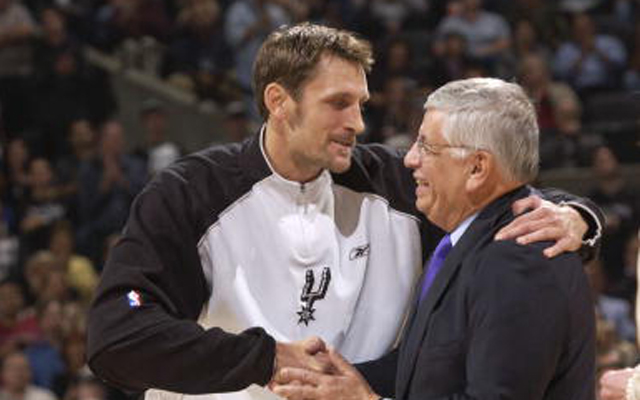 Awwwwwkward.
(Getty Images)
Buzzfeed brings us storytime Thursday. In a discussion with former champions, they spoke with Brent Barry. 
And Brent Barry -- kissed David Stern. From Buzzfeed: 
As I basked in that satisfaction I stood next to Tim Duncan. I said something like "Well that was fun last year, we should try to do this again!" He giggled his goofy giggle. And then I asked him how much he would give me if I kissed David Stern upon getting my ring.

He offered a sum, I considered it and waited for my name to be called. As I approached the Commish I felt like I couldn't let my captain down. So after a quick 'Congratulations Brent' from David I hugged him and planted one right on his cheek. To this day, I swear he and grandma have the same skin.
(via Tim Duncan Paid Brent Barry $100 To Kiss David Stern)
Duncan paid him $100. 
The best part of the story is Stern coming up to Barry in 2007 and telling him there would be none of that nonsense this time around. That's so Stern. 
How much would it take for you to kiss David Stern?
HT: SLAMOnline
The Pacers believe the Lakers tampered with Paul George before they traded him

Among the questionable decisions by Jackson was signing Noah to a long-term, lucrative dea...

This Akron store doesn't want their hometown hero to leave again
Milwaukee's star did not get cleared to play for his national team due to a painful knee i...

Ball, the second overall pick in the NBA Draft, is receiving even more hype

Rap mogul supports the vision the outspoken father has for his brand and sons