Brian Scalabrine: Mark Jackson's staff didn't push players enough
New Celtics analyst Brian Scalabrine said that, in Golden State, the coaching staff didn't do things like Tom Thibodeau and Doc Rivers did.
• 3 min read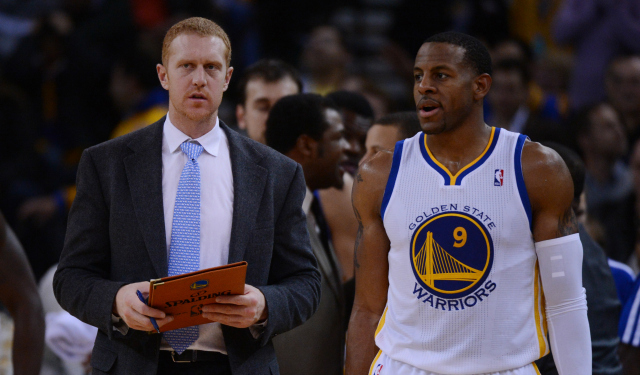 Offseason: Free Agency | Latest from Ken Berger | Rumors
In an interview with 98.5 The Sports Hub's Toucher & Rich, new Boston Celtics television analyst Brian Scalabrine -- if you missed it, he went home like LeBron -- said that Mark Jackson's staff with the Golden State Warriors wasn't as "hard-pressing" as the coaches on the successful Celtics and Chicago Bulls teams he'd been around, via the Bay Area News Group's Diamond Leung:
While Scalabrine thanked Jackson for the opportunity and said he enjoyed his time with the Warriors, the 36-year-old former NBA player referred to his one season of being an assistant as his "fiasco with coaching" and indicated that he knew three months into the job that it wasn't the right one for him.

"Mark gave me a great opportunity to be on the bench, and then when I got there, I think to win in this league you have to drive and push, and I feel like the players will respond to that," Scalabrine said. "And I think that was the biggest thing about this disappointment in our staff as a staff, right? We could have done more, and we didn't, and I think he kind of sensed that.

"At the end of the day, to say it was a difference of philosophy, a difference of opinion, I mean, that's really what it was. And I'm so used to seeing like a Doc Rivers and a Tom Thibodeau (his former coaches), and it kind of threw me for like kind of a loop and a surprise that it was not as hard-pressing as I thought it was going to be."
Scalabrine added that, while the Warriors offered him a chance to interview for an assistant-coaching position on Steve Kerr's new staff, he decided that his best move would be go back to a "less stressful" job in Boston. In an interview with SiriusXM NBA, he said that Golden State will be better next season because of the coaching change, also via the Bay Area News Group:
"Probably you'll have to say that they probably got a better coaching staff," Scalabrine, who was reassigned in March to the Santa Cruz Warriors' staff, told the station Wednesday. "And I was a part of that staff (last season). But at the end of the day, if you think about adding Steve Kerr and the three guys…Ron Adams, who was in Chicago when we were there, he's a great coach. Alvin Gentry, who's one of the best offensive coaches in the NBA.

"Steve Kerr has put together a great staff and if they could just be better organized…If you think, the Warriors were last in the NBA in turnovers. They turned the ball over more than anybody else in the NBA, but they were third in the NBA in defense. A lot of that had to do with the defensive coach, Darren Erman, being there. I mean just completely taken to defense, studying the film and getting guys in the right position. But if they can just piggyback off of that, not be 30th in the NBA in turnovers (they finished 27th in regular-season turnovers per game), be 10th, you know, take care of the ball, with those offensive weapons in Steph Curry, Klay Thompson…"
You can't imagine Jackson will be pleased with any of this, particularly the part where Scalabrine gave Darren Erman credit for the Warriors' excellent defense. Erman was the assistant coach who reportedly taped private conversations between the team's coaches and players, and he's since been hired by -- you guessed it -- the Celtics.
It's not often you hear this kind of talk after an assistant coach moves on, but Scalabrine isn't an assistant coach anymore and wasn't your average one from the beginning. Jackson also publicly criticized both Scalabrine and Erman after the Warriors fired him in May.
Also significant was how highly he spoke of Golden State's roster. Here's a substantial amount of pressure for Kerr, from the SiriusXM NBA interview:
"If the Warriors could somehow take care of the basketball…get five to seven more attempts up as opposed to turning the ball over, which allows the easy bucket on the other end, if they can take care of the basketball, which I think they will because they'll be better organized, then I think that they're a team that can beat the San Antonio Spurs." 
Chris Bosh answered on the spot about the LeBron James and Kyrie Irving situation

LeBron James is pitching free agents on Cleveland but the Cavs can't even reach Kyrie Irving...

Thanks to the Rockets, the Nets might be open to selling a controlling stake
Stephen Curry likes what he sees in this fan

How the Cavs star would fit with the Wolves, Knicks, Clippers, Spurs and other teams linked...

The Pistons put out a long list of details regarding their new uniforms