Brian Shaw on Kobe playing on Day 1: 'I don't see it happening'
Nuggets coach and former Laker says he doesn't see the future Hall of Famer being ready for opening night vs. the Clippers.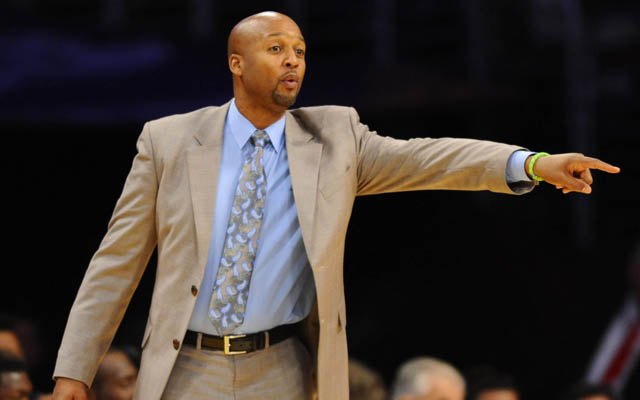 Nuggets coach Brian Shaw, who both played alongside and coached Kobe Bryant during his time in LA, said Thursday at practice that he doesn't think Kobe Bryant will return for the Lakers' regular season opener, while acknowledging only Bryant knows and that he's not a medical doctor. 
"I don't see it happening, but I'm not his doctor, and I'm not his Achilles."
Shaw is close with Bryant, or as close with Bryant as anyone is. Over the weekend, Shaw made similar comments while casting his support for Bryant's chances he'll return. 
"I think he'll be out for the season opener," said Shaw. "I think that's realistic to say. But I believe he'll take off right where he left off when he comes back."

Bold expectations considering Bryant averaged 27.3 points last season on 46.3 percent shooting, six assists and 5.6 rebounds. Lakers coach Mike D'Antoni also said Bryant hasn't returned to Los Angeles yet after leaving for Germany in recent days to have a procedure on his right knee.

"I wouldn't bet against him," Shaw said of the 35-year-old Bryant. "It's a tough injury to come back from, but there's no doubt in my mind he can do anything he sets his mindset to."
via Brian Shaw believes Kobe Bryant will miss season opener, but eventually return at a high level | Inside the Lakers.
Bryant's apparently not in a hurry and doesn't seem to understand why everyone else is, either. 
"I just keep it all open right now," Bryant said. "I don't know why you guys are so hell bent on timelines. That's ridiculous. It's entertaining to me. When I'm ready, I'm ready."
via Kobe Bryant on Achilles: 'When I'm ready, I'm ready'.
The odds on Bryant making it back for the October 29th opener vs. the Clippers are dropping by the day. He just hasn't made enough progress. So now the question is when he will be back, which is probably not too far after the season opens. Bryant will be back, he'll be back soon. It's just likely won't be first thing when the season begins. 
LaVar's son couldn't live up to LaVar's hype. But there's more to this story

Carmelo Anthony is hoping for Kristaps Porzingis to see success on his own

Bill Reiter and Reid Forgrave break down the debuts of Lonzo Ball and OKC's new big 3, plus...
The world's No. 1 sports dad fired back at the Clippers guard

Frank Vogel was the Pacers coach when Paul George suffered a similarly severe leg injury

It was one possession on each end in OKC's opener, and they tell you everything you need to...