Brian Shaw torches players after blowout to Bulls
Nuggets coach goes off on players' effort and attitudes.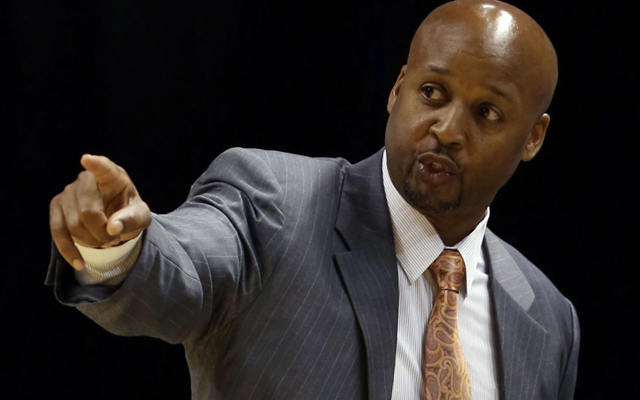 The Nuggets' new front office came in with a handicap. New GM Tim Connelly didn't get settled until really August, his new coach Brian Shaw came in late as well. And the roster was tailor fit to George Karl's run and gun style, which Shaw has repeatedly denigrated in interviews since the season began, calling it "cute" at one point. The short-term additions like Nate Robinson and J.J. Hickson were stop gaps, low-risk investments with the hope of payoff. 
Then there are the injuries. Danilo Gallinari, out for the season. JaVale McGee, out for the season. Nate Robinson, out for the season. Ty Lawson, missed significant time. 
Then there's the Andre Miller situation, which was the first indication that there was conflict between the roster and Shaw. After Miller's blow up and subsequent suspension (which was immediately lifted), the Nuggets had a three-hour series of individual meetings between the players and Shaw. Things improved, the team went on a run. 
Things have fallen apart again. 
And in the last week, Shaw's comments have gone from frustrated to full-on blister after the Nuggets' beatdown by the Bulls Friday night. First, here are Shaw's comments from earlier this week: 
"There's a part of me that's like 'People out there think that we're incompetent, that we're not teaching them the right things to do.' We are," Shaw said. "Executing them is a whole another thing. That's why you have to have film study and you have to show the guys and make the teaching points and hopefully at some point you stop making the same mistakes over and over again. We show them positive examples of when we do it right it usually ends up in a good result, and when we don't do it right or we go off on our own and they do what they want to do it usually ends up in a poor result."

"That's the difference between the teams who win those types of games. They consistently follow their assignments and their instructions and they execute it. When we're inconsistent in our execution of it, we're going to be inconsistent in terms of winning games."

How does Shaw go about fixing it? By impacting playing time, which he can do to a large extent given the depth on the basketball team.

"When we show them film and we go over and come out on the floor and walk through it, you want that to kind of be the lesson – you go burned the last time you didn't blitz a screen this way or didn't help the helper and it cost us, so let's not do it again," Shaw said. "You just have to keep on reinforcing it, keep on showing it. It's still relatively early in the season; hopefully you get better and better at it as the season goes on. But that's where, as a coach, if it's the same guys making the same mistakes over and over again…when I talk about shuffling some things around and changing things up, that's where you get to that point. When a guy isn't getting it, when he's continuing to make the same mistakes over and over again."
via Nuggets coach Brian Shaw frustrated at some players lack of focus.
So that seems a little tough, but that's not... oh, no. Ohhhhh no. From the Denver Post, which just let Shaw's comments speak for themselves: 
"As a coach and coaching staff, it's our job to try to find five players that want to go out and play and want to have some pride and not decide night-to-night that 'I'm going to play this game and I'm not going to play this game.' I felt like tonight we had some guys that just decided they weren't going to play tonight, they weren't going to put forth any effort to try to get the job done. It's unfortunate. It's a nationally televised game that we're professionals and as a staff we have to beg guys to give effort when they play.

"I told our team I wish paychecks were predicated on night-to-night performance. So if you play like a star on a given night then you get paid like a star. If you play like an uninspired player, then either you don't get paid or you get paid like an uninspired player. And you can't just pick and choose when you want. Last night we played Milwaukee, who is obviously down players, they have injuries, they've been struggling all season long and we act like the big bad wolf against Milwaukee. And then we come in tonight…and we tuck our tails and we hide basically. We don't defend at all, from the onset of the game until the end. And thus another 30-point loss for us on the road.

Asked how he can get the message through to his players, Shaw said "I finished most of the fourth quarter with our two new players, Vesely and Aaron Brooks, with our young guys. So they're going to be hungry, they're going to want to play. They're going to go out and make a lot of mistakes. But if they want to play, and the other guys don't want to play, then I'm going to play the guys who want to put forth the effort and want to play like professionals and go out and earn their paychecks."
via Fuming Nuggets coach Brian Shaw takes team to task after loss.
"We come in tonight... and we tuck our tails and we hide basically." 
Ouch. 
This situation has gotten bad in a hurry. It's difficult to argue that a team losing this consistently by such a margin isn't at some sort of breaking point with its coach. Even teams with injuries can compete night by night with coaching and chemsitry. And blistering the players like this in the media can have one of two reactions. It'll either get the players to respond the way Shaw needs to or further alienate them from him. 
Either way, after a 57-win season last year, it's incredible how different the Nuggets look now. 
Shaquille O'Neal and Sir Charles cruise to an easy victory over some hot peppers

If Charlotte indeed moves its star guard, there's going to be more people impacted than just...

Trading Kemba Walker (and dumping salary in the process) may be harder than expected for C...
Our advanced computer model simulated Friday's Jazz-Knicks game 10,000 times

There was some explosive guard play this week in the NBA's rookie class

With half of the season in the books, there were some clear favorites for our Midseason Aw...