Brilliant Blazers season leads to questions about execution curve
The Blazers were fun, and good this year. But can they improve enough, especially defensively, to become a contender?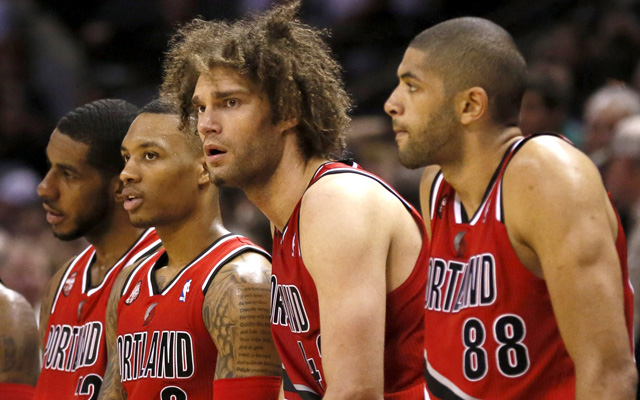 More postseason coverage: Playoff schedule, results | Latest news, notes
Portland lost to the Spurs 104-82 Wednesday, losing their second-round series with San Antonio 4-1. 
The Blazers were a feel-good story this season in the NBA, and to be honest, we kind of needed it. Kobe got hurt. Rose got hurt. The Knicks fell apart. The Eastern Conference sucked. Russell Westbrook got hurt. It was one disappointing thing after another. Even the Pacers eventually self-combusted to the point where I have no idea whether they can win one of two games against the mediocre fifth seed from the East, including one game on their home floor. 
But the Blazers? 
Man, the Blazers were fun. 
Portland got hot early and that helped them find an identity. Run. Post. Pass. Shoot. They moved the ball fluidly. They spun rotations around like they were making clay pots. They managed to keep their defense afloat enough to make the fifth seed, and then put in a tremendous defensive performance capped by incredible clutch performances from Damian Lillard and cashed in a first-round upset. 
It was special, it was exciting, it was thrilling, it was free. 
... And then the Spurs killed them in five games. 
I say all this to make it clear that this season should feel special to Portland and all its fans, and really NBA fans. This was a fun team to watch, a fun team to track, and they have every reason to look back fondly on this season. 
Please stop reading if you don't like bad news. 
Portland's defense was in fact their undoing. Don't get me wrong, the Spurs beat them on both ends. Portland managed only a 96.7 offensive efficiency against San Antonio, after averaging a 108.3 mark (points per 100 possessions) in the regular season. But much of that was because San Antonio was always back in transition, because the Spurs were scoring whenever they wanted. Portland gave up 104.7 points per 100 possessions in the regular season, 16th in the league. They gave up 113 per 100 possessions to the Spurs. San Antonio shot 49 percent from the field in that series. 
That's not good. 
OK, but the Blazers are this young, scrappy team still learning its way! It's only going to get better! 
... Right?
Well, here's the thing. 
LaMarcus Aldridge turns 29 this summer. Nicolas Batum, 26 next winter. Wesley Matthews, 28 next fall. Robin Lopez will be 27 when next year's playoffs begin. Even Lillard turns 24 this summer. This isn't to say that these guys are old. They're not. They're all just entering their prime. 
But how do you take a team with no one who's really "raw" and make them into the kind of defensive squad you need to contend for a title? The common response is simply "continuity." Players playing together more solves a lot. Damian Lillard will improve defensively with more games in the NBA, even at an older age. And they will play together and get to know one another better (if the core is retained) and that will improve them. But will it be enough? How about this, from Aldridge?
LMA on Spurs: "It definitely shows us the quality of basketball we have to get to be one of these elite teams to win a championship."

— Dan McCarney (@danmccarneysaen) May 15, 2014
Try and find a scenario where this Blazers team truly finds its way to that level of execution in the maximum four years that Aldridge has left in his prime. Meanwhile, the other solution that's brought up is to improve the bench. And yes the bench was horrible, and has maybe the most potential. Will Barton showed flashes. C.J. McCollum is set for a big year with a full training camp and summer of work. Thomas Robinson may have found a home. 
But we're still talking about improving by inches, maybe feet, and not miles. (Or meters and not kilometers.) The curve the Blazers have to turn on to go from "fun" to "contender is incredibly sharp if they don't make a roster change, and any major roster move could compromise their offensive efficiency. 
Hanging over all of this is Aldridge's 2015 free agency. Aldridge was excited more than any other season of his career, and the success ended a lot of offseason talk about his unhappiness. He seems to respect and love playing with Lillard, and one special year can make a player have emotional attachments to a team. But on the other hand, Aldridge may know this will be his last contract chance to find a contender. Is Portland going to get there? 
In short, are these Blazers building like the offensive version of the 2000's Pistons or are they mid-2000's Clippers with Aldridge as a healthy Elton Brand? 
I'm not saying Aldridge wants to leave. It's pretty clear he doesn't. But it's pretty reasonable for him to think about it, long and hard. 
The Blazers were a great story, a fun team, and had a truly memorable and wonderful season. But going from good to great isn't the same in the West as it is for, say, the Wizards. Washington's perched with cap flexibility, two young superstars and the knowledge that if Miami has one injury year, the window for them is open. For Portland, they're still trying to get to the point they can reasonably say they belong. They proved themselves to be dangerous, to be a playoff team, to have heart and talent. 
But the execution gap looms large. 
How they bridge it will determine whether this season was the start of something or a blip in the dark. 
Among the questionable decisions by Jackson was signing Noah to a long-term, lucrative dea...

This Akron store doesn't want their hometown hero to leave again

Milwaukee's star did not get cleared to play for his national team due to a painful knee i...
Ball, the second overall pick in the NBA Draft, is receiving even more hype

Rap mogul supports the vision the outspoken father has for his brand and sons

Deciding who to watch on League Pass can be difficult, but these rankings promise to help