Broncos Terrance Knighton on Sterling: Clippers shouldn't play
Broncos defensive tackle Terrance Knighton doesn't think Los Angeles Clippers players should take the court after purported comments made by owner Donald Sterling.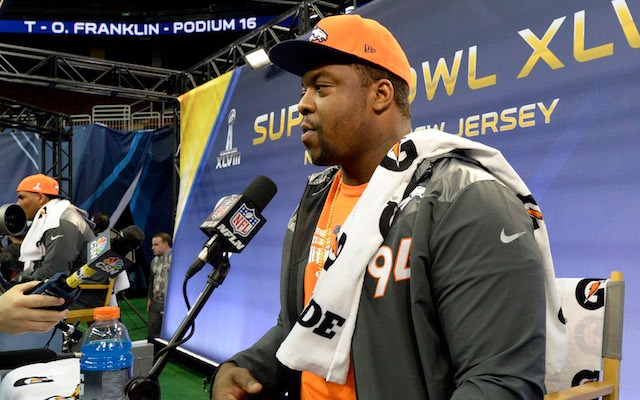 Denver Broncos defensive tackle Terrance Knighton has heard the audio attributed to Los Angeles Clippers owner Donald Sterling and as you can imagine, he's not a fan of it. 
The Broncos player known as 'Pot Roast' thinks the Clippers should take a stand on Sunday and not play in their playoff game against the Golden State Warriors. 
The clipper players should not show up to their game

— Terrance Knighton (@MrKnighton2u) April 26, 2014
I repeat. The clipper players should not play

— Terrance Knighton (@MrKnighton2u) April 26, 2014
According to CBS Sports NBA Insider Ken Berger, the NBA is currently investigating the audio that was released late on Friday night by TMZ. 
During the audio, you can hear a man -- alleged to be Sterling -- say several things.
-- "It bothers me a lot that you want to broadcast that you're associating with black people. Do you have to?" (3:30)
-- "You can sleep with [black people]. You can bring them in, you can do whatever you want.  The little I ask you is not to promote it on that ... and not to bring them to my games." (5:15)
-- "I'm just saying, in your lousy f******* Instagrams, you don't have to have yourself with, walking with black people." (7:45)
-- "...Don't put him [Magic] on an Instagram for the world to have to see so they have to call me.  And don't bring him to my games." (9:13)
Sterling's comments were allegedly made during an April 9 argument with his girlfriend that started after she posted a picture on Instagram of her and Magic Johnson. 
 "We are in the process of conducting a full investigation into the audio recording obtained by TMZ," Bass said in the statement Saturday. "The remarks heard on the recording are disturbing and offensive, but at this time we have no further information."
The Clippers are scheduled to play in Los Angeles on Tuesday and when they do, they'll have at least one less fan in attendance: Marcellus Wiley. The former Pro Bowl defensive end tweeted that he's giving up his tickets. 
Donald Sterling's latest racist comments just freed up my tuesday night plans at Staples. Shame on us…we were warned! #HistoryRepeatsItself

— Marcellus Wiley (@marcelluswiley) April 26, 2014
With 2K18 out everybody wants to know who has the 10 highest ratings in the game. Here's the...

Durant noted in an interview that all of the criticism in the immediate aftermath hit him...

Want the swagger of LaVar Ball? "NBA 2K18" lets you copy his absurd run from his WWE appea...
Durant apologized for a few tweets in which he criticized OKC and his former coach Billy D...

Lue does not expect the Cavs' big trade to affect the team's starting frontcourt ... at least...

Dwight Howard wants to be a farmer in his future and retire with his donkeys