Brooklyn Nets name assistant staff for coach Lionel Hollins
The Brooklyn Nets announced Paul Westphal, John Welch, Tony Brown, Joe Wolf, and Jay Humphries have been named Lionel Hollins' assistants.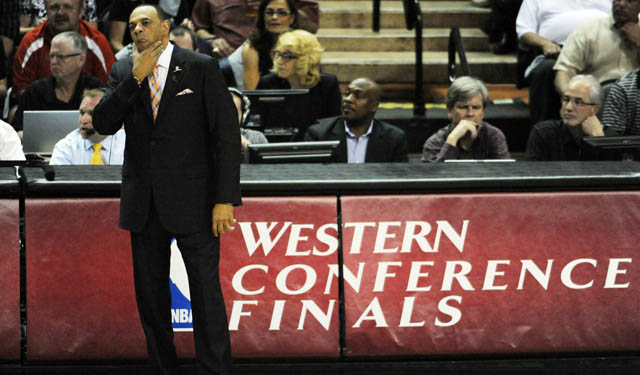 More Offseason Analysis: Coaching changes, news | Free Agency | Draft
After the Jason Kidd saga happened roughly a month ago, the Brooklyn Nets moved quickly in hiring Lionel Hollins as their new coach. Hollins had been one of the favorites in the running for the position in the 2013 offseason before Kidd was given the position shortly after he retired from playing. With Hollins settled in as the new coach, the Nets have an assistant coaching staff to help him now.
The team announced on Wednesday that Paul Westphal, Tony Brown, John Welch, Jay Humphries, and Joe Wolf will be the assistant staff under Hollins next season. They also announced Jim Sann as an advanced scout/assistant coach. From the Nets:
The Brooklyn Nets have named Paul Westphal, John Welch, Tony Brown, Joe Wolf and Jay Humphries as assistant coaches and Jim Sann as an assistant coach/advance scout on new head coach Lionel Hollins' staff, General Manager Billy King announced today.
There is a wide range of experience in this coaching staff. None of the men from Hollins' last stint with the Memphis Grizzlies are on this new staff of assistants. Westphal was a player in the NBA for 12 years and has been a coach at the college level or higher for the majority of the past 30 years. He has been a head coach with the Suns, Sonics, and Kings since 1992. Welch will be in his second season as an assistant for the Nets and has been an assistant in the NBA since 2005 when he started out with the Nuggets. 
Brown has been an assistant coach in the NBA since 1997, having been on coaching staffs with the Blazers, Pistons, Raptors, Celtics, Bucks, Clippers, and Mavericks. He spent the last three years in Dallas under Rick Carlisle. Wolf was an assistant with the Bucks from 2008 to 2013, after spending two years as an assistant coach in the D-League. Humphries has been a coach in the Chinese Basketball League, Korean Basketball League, D-League, and an assistant in the NBA.
Larry Nance Sr. starred for Cleveland from 1988-94

The hotline comes in the wake of the 'Sports Illustrated' investigation into the Dallas Ma...

Giannis, who spent last weekend in L.A. for the All-Star Game, says he loves 'low-key' Mil...
We have all the scores, highlights and news from the first day back from the All-Star brea...

Smart, set to return Friday, said doctors told him he was very lucky that the glass did not...

Word got back to Irving that the team was discussing options, and he didn't like it one bi...