Brothers claim they were struck by men with Damian Lillard over photo
Brothers claim that they were struck by men they say were with Blazers rookie Damian Lillard early Saturday morning on the streets of Portland.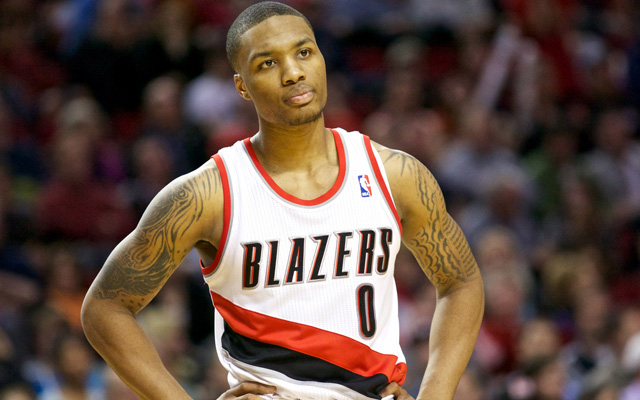 KGW.com reports that two brothers claim a group accompanying Blazers rookie G Damian Lillard out in Portland early Saturday morning attacked them after one of the brothers took a photo of Lillard. 
In a statement to KGW, one of the men claimed that after the men took issue with the photo being taken, he tried to apologize, but then the conflict escalated into violence. Lillard was not involved in the alleged attack. Both the Blazers and the police commented to KGW: 
A spokesperson for the Portland Trail Blazers told KGW "We are aware of the alleged incident. Based on preliminary reports, none of our players is considered a suspect in this case."

Police confirmed they are investigating the incident.

"What we do know for certain at this point is Damian Lillard is not a suspect in this incident at all," said Portland Police spokesman Sgt. Pete Simpson. "Police did talk to him there. He remained at the scene. What we don't know is if these people were actually associated with him or people standing in a group or hangers on. We're not really sure yet." 
via Brothers report beating after taking Blazer Damian Lillard's photo | kgw.com Portland.
Lillard, the 2013 NBA Rookie of the Year and a unanimous first-team All-Rookie selection, won the Blazers' Maurice Lucas Award for contributions on the court and in the community and won the NBA's community assist award in March for his support of a "respect pledge" to promote positive communication and tolerance. 
HT: Blazers Edge
Among the questionable decisions by Jackson was signing Noah to a long-term, lucrative dea...

This Akron store doesn't want their hometown hero to leave again

Milwaukee's star did not get cleared to play for his national team due to a painful knee i...
Ball, the second overall pick in the NBA Draft, is receiving even more hype

Rap mogul supports the vision the outspoken father has for his brand and sons

Deciding who to watch on League Pass can be difficult, but these rankings promise to help