Bryant watches Lakers beat Dwight, enters critical phase of rehab
After Kobe Bryant watched the Lakers drop Dwight Howard's Rockets on Thursday night, he told CBSSports.com that he's entered a critical phase of his rehab.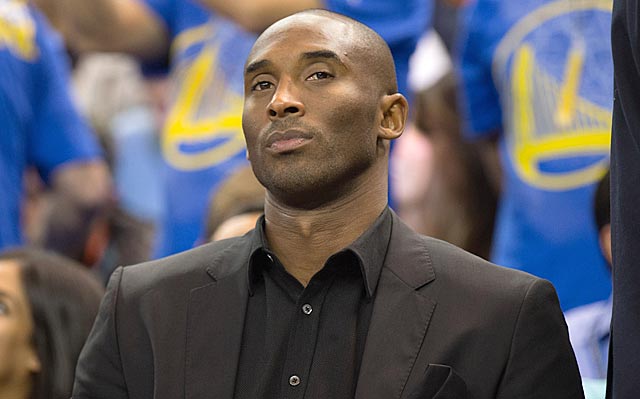 HOUSTON -- Standing on the exit ramp of the Toyota Center, Kobe Bryant exchanged hugs and handshakes with a conga line of well-wishers. What started as a private conversation with his agent, Rob Pelinka, quickly became a receiving line.
James Harden, who shares the same agent and who was instrumental in luring Dwight Howard away from Bryant and to Houston, got the loudest pop when Bryant greeted him with a firm slap of the hand and two forearm taps on his back. Former Rocket Tracy McGrady came by to share an embrace, and some current Rockets did, too.
Bryant isn't back in any meaningful way yet, still pushing his surgically repaired Achilles tendon through what he described as "the most challenging, the most tedious part" of his rehab. But his team, the team Howard left behind as a free agent this past summer, had done him proud on this night.
"To come here and perform the way that we performed, it's really important for us," Bryant said after the Lakers spoiled Howard's first game against his former team with a dramatic, 99-98 victory against the Rockets on Thursday night -- culminated by Steve Blake's 3-pointer over Howard with 1.3 seconds left.
Take this as you will, but Bryant will have you believe that he got no extra joy out of this, the sixth game of the Lakers' season -- what would've been the 1,245th regular season game of his great career had his Achilles not popped this past April -- a victory against Howard in his new home.
"No," Bryant said, shooting me a Kobe death stare near the exit to the arena. "We needed a win though, so it's good to get a good win."
Bryant has been watching the Lakers' every move in the early stages of this, his 18th season, and he admits that sometimes he does so with an eye toward what kind of team this will be when he comes back -- with a curiosity about what he's coming back for. Most recently, Bryant had witnessed a demoralizing loss Tuesday night in Dallas, a night when the Mavericks -- not exactly championship contenders -- "really jumped on us," he said.
On this night, he witnessed another one of 82, but one that perhaps will close a chapter on the one miserable season he played with Howard in LA.
The hero was Blake, who circled Nash at the top of the 3-point arc on an inbounds play with 3.4 seconds left and popped out for the winning basket. Just as Blake broke toward the sideline, Nash screened Jeremy Lin -- hugged him, really -- and Pau Gasol (1 for 10 in the game) picked off Patrick Beverley, who tried to cover for Lin. Neither got there, so Howard was left to lunge fruitlessly toward his former teammate. He never made it, either.
After leaving the arena, Bryant tweeted a tribute to Blake: "#vinoblanco."
"Guys just kind of messed up on the play," said Howard, who had 15 points and 14 rebounds. "It happens. ... There are a lot of things we need to work on."
As Howard walked off the floor after the Rockets' final, empty possession, he sought out Lin to inquire about the defensive mixup. It was a role he played often on last year's Lakers.
"I felt like it was good," Blake said. "But you never really know until it goes in."
Something else that Howard often experienced in LA came back to haunt him here: the dreaded Hack-a-Dwight. It's a potent strategy that Lakers coach Mike D'Antoni has described as "not entertaining for anybody."
"Yeah, but that doesn't mean you're not gonna use it," D'Antoni said with a smile after the game. "I'm not crazy. But if I were to change it, I'd probably change the rule."
On one occasion in the fourth when D'Antoni was employing the strategy, Howard raced down the court with his trademark smile, trying to avoid the contact. Entertaining or not, the strategy helped the Lakers cut a five-point lead to two in the final 2:40, setting up Blake's dramatic game-winner. Howard was 5 for 12 from the line in the fourth.
It was a small measure of redemption for D'Antoni, whose offensive schemes and refusal to give in to Howard and make him the team's No. 1 scoring option played important roles behind the scenes in Howard's departure.
"I mean down there somewhere, yeah, I'm human, and it's great," D'Antoni said. "But he made his choice which is good, and you've got to respect that. He's fine with it and he's a great player."
Meanwhile, the great player Howard no longer wanted to play with is ramping up his efforts to return. Bryant has often referred recently to "pushing" his leg harder during rehab, by which he means increasing the speed, intensity, frequency and duration of straight-line sprinting. He isn't going laterally yet; that's the next step.
The hardest one.
"You continue to elevate it until you get to a point where you can come back and perform at a high level," Bryant said. "... I've been pushing it pretty hard all week."
Bryant is in the final stages of his rehab, but the uncertainty ahead is why he continues to resist estimating a timetable for his return. Too much is at stake; much can still go wrong. 
"Honestly, I couldn't tell you," he said. "I don't want to say something and then misjudge it. It's tough to measure."
So how will he know?
"Once I get out there and start moving side-to-side and start doing more change-of-direction things," he said. " ... The biggest thing with the Achilles is you have to be able to maintain your stability. So what happens when the muscle fatigues, it can't maintain that. So a lot of people with Achilles injuries lose their explosiveness. They try to make a move and now that's giving on them and they can't maintain that. So you lose that pop. And that last bit is where you really fight to make sure the muscle is strong enough to be able to maintain that."
He paused a moment to say hello to someone else, to dole out another hug.
"The explosiveness for the Achilles is always the most challenging, the most tedious part of the deal," he said.
Tedious would be a good way to describe his one season with Howard in LA; a perfect way to sum up the silliness of all this hype surrounding Howard's first game against his former team.
Bryant was watching, and if he felt even an ounce of extra joy, he wasn't revealing it. That will have to wait for the night when it's time to express himself on the court again.
The Lakers return here in January, and will host Howard's Rockets at Staples Center in the first game after the All-Star break. If Bryant is more than a spectator, you better believe it'll mean something.
Magic Johnson and Rob Pelinka wanted Ball to tone down his criticisms of Lakers coach Luke...

Hayward talked to CBS Sports ahead of his event at the Boys & Girls Clubs of Boston

Another day, another social media beef for Embiid
We have all the latest scores, highlights and news from Wednesday's NBA games

Thomas spent a day with a 10-year-old girl whose family is also new to Cleveland

Barkley did not hold back with his opinion of the Big Baller Brand patriarch