Bryant's advice for Melo: Win a championship
Kobe knows the stigma of being labeled a "scorer." Weighing in on the Carmelo Anthony situation, Bryant says the only way to shake that title is to win a championship.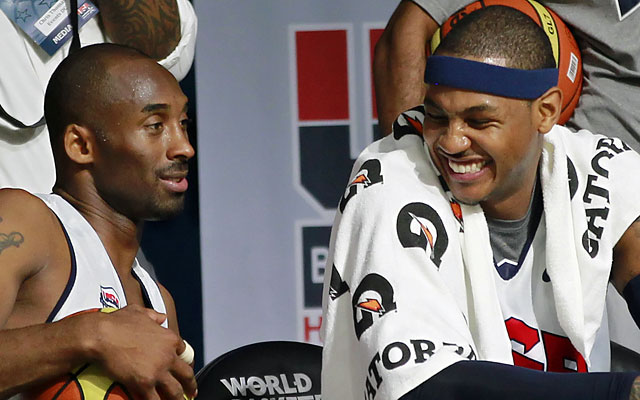 NEW YORK -- Two days after Carmelo Anthony set the Madison Square Garden scoring record, the guy who used to own it -- Kobe Bryant -- stopped by to say hello.
Much to the chagrin of road crowd that adores him more than any other, Bryant could do no more than speak on Sunday as the Lakers visited the Knicks. The five-time champion, resplendent in all black, remains relegated to the exercise bike as he recovers from a broken leg.
"That's killing me," Bryant said of his current plight. "Absolutely killing me."
This week marks the six-week timetable for Bryant's recovery, and he'll visit a doctor when the Lakers return from this seven-game road trip to find out what the next step will be.
Until then, Bryant offered his thoughts on his close friend Anthony's record-setting night, Melo's stature in the game and future in New York as a Knick.
"I just remember being very calm," Bryant said, reflecting on his 61-point game at the Garden in 2009. "I remember everything just being very peaceful. Normally when you come to the Garden, the first thing you do is you kind of look around and see who's at the game and soak it all in. But on that particular evening, I just felt a supreme focus."
Bryant called Anthony Friday night to congratulate him and let him know it was OK to "cool down" on Sunday. Anthony did, but not enough to pull the Lakers out of their tailspin. Melo had 35 points in the Knicks' 110-103 victory over Bryant's Lakers, who lost five of seven on the trip and have dropped 15 of 18 since Bryant went down only six games into his comeback from Achilles surgery in December.
Though separated by only two games in the loss column, these two glamour-market teams are on opposite ends of the Earth when it comes to whatever success can be squeezed out of this season. In the stacked West, the Lakers (16-29) have virtually no chance of making the playoffs. In the East, the Knicks (17-27) are only one game out of the eighth seed -- and more important, 4 1/2 games out of sixth, the first spot that wouldn't virtually guarantee a first-round sweep.
In some ways, the Knicks are more like the 2006-07 Lakers than this year's version. Back then, Bryant was seething about a team that had suffered two straight first-round playoff exits. He went so far as to issue a trade demand, which was rendered moot when the Lakers orchestrated the Pau Gasol trade and made it to the next three Finals, winning Bryant's fourth and fifth championships.
"It's tough for players because a lot of times you're really subject to the culture around you in terms of the players and talent that's around you," Bryant said. "You've seen it with players from the past, whether it's Dominique Wilkins or Bernard King, and it can contribute to a lot of frustration. That's one of the reasons I was so frustrated with this organization back in 2006-2007 because I didn't want to be known as a scorer. I wanted to make sure I had a team around me that can contend for a championship. This is a team sport, and a lot of times you have to work with what's around you. You have to be lucky in the sense of having an organization that can put a great team around you and be successful."
Bryant said Anthony is "obviously [in] the upper tier of players in the league." But there's only one way to evade the label as a scorer, leave the likes of Wilkins and King behind and join another stratosphere.
"The only way to do that is win," Bryant said. "That's it. I've won five championships and there's some of you who still say that. ... The most important thing is winning a championship, and that's the only way to shake it. That's the only way Michael shook it. That's the only way any top scorer will be able to shake it."
The question for Anthony, of course, is whether he will be able to do that in New York -- whether the Knicks are an organization capable of surrounding him with championship talent and culture. Bryant spoke Sunday of New York's allure as a basketball and cultural Mecca -– despite the cold, which he abhors -– but neglected to mention the most important piece. The basketball organization that occupies this prestigious address and historic monument that is Madison Square Garden hasn't won a championship in 40 years.
"I think that players, when that time comes, have to make the best decision for them and their families," Bryant said. "I try not to think about it too much. If he wants to call me for advice later, as a friend, I'll be more than happy to give it to him."
In LA, Anthony has a willing accomplice in Bryant, a team with championships on its resume and a city where he and his wife, La La, have a home. He also has a glamour team with cap room for a max free agent this summer, making the Lakers the only viable option for Anthony if he chooses to leave New York. Just as important, the Lakers are in position to have significant room again in 2015, when Minnesota's Kevin Love -- who, like Anthony, loves LA -- can opt out and become a free agent.
It wasn't unusual, but certainly was notable, that Bryant spent a good bit of time after Sunday's game catching up with two power brokers who make such things happen from coast to coast in the NBA: William "World Wide Wes" Wesley, the CAA operative who has sunk his influence deeply into the Knicks, and Robert "Bay" Frazier, Anthony's business manager.
"Everyone wants to play in Los Angeles," Bryant said. "I mean, New York's a beautiful place, don't get me wrong. But it's colder than [expletive] out here. Palm trees and beaches are obviously a little bit more appealing."
Of course, it wasn't too appealing to Dwight Howard, who decided he'd have a better chance to win championships if he left LA. But Bryant said such a stigma -- being labeled as the guy who had to leave a team in order to win -- shouldn't deter Anthony.
"That's a familiar story with LeBron James," Bryant said, "and he seemed to turn out OK."
With his 11th season coming to a close with no championship hope at the end of it, Anthony faces the eternal struggle that Bryant has long understood. The struggle of lifting that championship burden, elevating your stature from scorer to winner, is paramount for a player of Anthony's stature.
"It's hard," Bryant said. "I think from a psychological perspective as a player, you don't want to get too frustrated about things you can't control, so you want to find that balance. At the same time, it's important for the organization to understand the level of competitiveness that you have, that you won't tolerate having a team that's not in contention for an NBA championship.
"It rubs a lot of people the wrong way, but sometimes you've got to kick down a few doors and piss some people off and trust that it will pay off in the long run," he said. "If you're willing to do that more times than not, you'll be OK."
With the end near, Bryant has been OK for a long time in LA, where he will finish his Hall of Fame career with at least five championships. For Anthony, kindred in spirit if not in accomplishments, the clock is ticking.
Trail Blazers guards Damian Lillard and C.J. McCollum have been pushing for Anthony to join...

Anthony reportedly gave the Knicks an expanded list of teams he'd waive his no-trade clause...

The Suns will also receive a second-round pick in the deal
Kerr noted Warriors are deeper than the NBA championship team of last season

The Dubs will make a decision as a team on visiting the White House, but Steph would vote...

Wolves are an up-and-coming NBA squad, but this region knows heartache too well