Bucks and Pistons agree to sign-and-trade for Brandon Jennings
The Bucks and Pistons have agreed to a sign-and-trade for Brandon Jennings that sends Brandon Knight to Milwaukee, according to Ken Berger of CBSSports.com.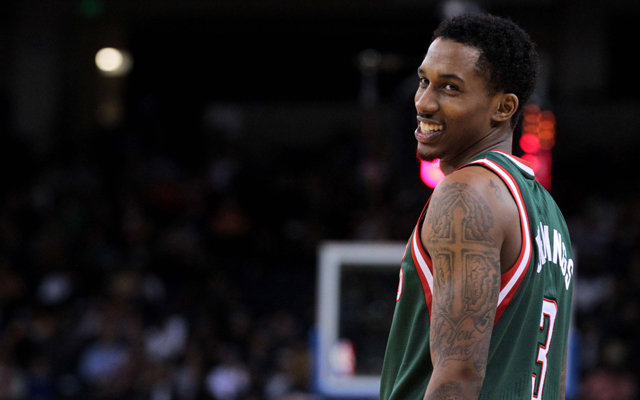 Free agency is mostly solved, but the Pistons and Bucks are making one more splash. 
The Pistons and Bucks have agreed to a sign-and-trade that sends Brandon Jennings to Detroit and Brandon Knight to Milwaukee, Ken Berger of CBSSports.com confirms.
Also included for the Bucks would be center Slava Kravtsov and forward Khris Middleton. 
In the deal, Jennings, a restricted free agent, would be receiving a three-year, $24 million contract with the Pistons. 
Just 12 days ago, Pistons general manager denied having any conversations with the Bucks about Jennings. 
The Pistons have been active players in free agency, already adding Josh Smith on a four-year, $54 million deal ad Chauncey Billups on a two-year contract. With Knight, Rodney Stuckey, Will Bynum, Billups and rookie Peyton Siva in place, something had to give, and it turned out to be Knight. 
Knight, 21, showed promise last season in his second season, averaging 13.3 points and 4.0 assists in 75 games.
For Jennings, $8 million a year seems like a fair market value for a guard that is woefully inefficient, but still extremely talented with a solid amount of upside. A report from a few weeks ago said Jennings was demanding $12 million a year. Jennings was selected 10th overall by the Bucks in 2009. 
Jennings, 23, averaged 17.5 points and 6.5 assists in 80 games for Milwaukee last season. 
Mirotic and Portis combined for 49 points as the Bulls won their fifth straight game, beating...

Gobert, who missed 11 games earlier this season with a knee injury, will have an MRI

Get all the latest scores, news and highlights from Friday's NBA games
Porzingis is questionable for Carmelo Anthony's return to MSG on Saturday

The Spurs and Rockets will renew their in-state rivalry on Friday night

Anthony will play at Madison Square Garden on Saturday for the first time since being trad...