Bucks center Larry Sanders is done for the season
Following a fractured orbital bone that required surgery, Milwaukee Bucks center Larry Sanders is done for the season.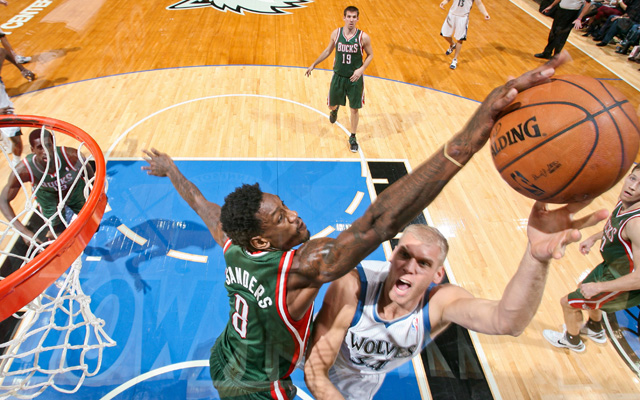 Milwaukee Bucks center Larry Sanders has had a terrible season. He missed over a month due to a thumb injury he sustained in a bar fight. He had a run-in with Gary Neal in the locker room as reporters were filing in. And he didn't play well when he was on the court. In February, he suffered a fractured orbital bone, which required surgery to repair. It looks like that injury and recovery process will effectively end his 2013-14 season. 
Charles F. Gardner of the Milwaukee Journal Sentinel says Sanders has confirmed he's done for the season and will work toward being able to train this summer and bounce back in the 2014-15 season. 
Bucks center Larry Sanders did not have a season to remember.

And now it's done. Sanders, traveling with the Bucks on their current four-game western trip, confirmed he would not return this season in a locker-room interview.

But he said he is progressing well following surgery to repair right orbital fractures suffered in a fluky play against Houston on Feb. 8. Sanders went up for a rebound and was elbowed by Houston guard James Harden.
Sanders had a breakout season in 2012-13 as one of the best shot blockers in the league and a surprise building block for the Bucks. They rewarded him with a four-year contract extension for $44 million. He responded with having a horrendous season that is mercifully over. He followed up a career year of 9.8 points, 9.5 rebounds, and 2.8 blocks in 27.3 minutes per game with a disappointing campaign of only 7.7 points, 7.2 rebounds, and 1.7 blocks in 25.4 minutes per game.
He finishes this season having played just 23 games for the worst team in the NBA, in terms of record.
Griffin can still hand out posters with the best of them

The Knicks forward is a bucket-getter in the truest sense of the term

On the TNT broadcast, even Shaq finally admitted that he likes Joel Embiid's game
The Warriors new Nike classic uniforms will be revealed Thursday

Joel Embiid doesn't want to call what the 76ers are doing a minutes restriction

The Mavs played a tribute video to the American flag prior to their opening game on Wednes...