Bucks co-owner Marc Lasry says team won't draft Joel Embiid
Milwaukee's decision "got a lot easier" after the news about Joel Embiid's fractured foot.
• 1 min read
More Offseason Analysis: Coaching changes, news | Free Agency | Draft
Milwaukee Bucks co-owner Marc Lasry spoke at a press club and rotary club event on Monday morning, and discussed his team's draft plans, which no longer include Joel Embiid:
Lasry is ruling out Bucks taking Embiid. "Our decision got a lot easier, mainly because Embiid got hurt."

— cfgardner (@cf_gardner) June 23, 2014
"It's hard to take Embiid," Lasry said. "We want somebody who is going to help us on Day 1."

— cfgardner (@cf_gardner) June 23, 2014
Embiid had surgery on his fractured foot on Friday, and he will be out of action for four to six months. It was immediately assumed that he'd no longer be in the equation for the Bucks, who own the No. 2 pick. Still, it's a bit surprising that Lasry said it publicly.
A week ago, it looked unlikely that the big man would wind up in Milwaukee because he seemed like the best choice for the Cleveland Cavaliers at No. 1. Now, no one knows where he'll go, but it looks like the Bucks will take either Jabari Parker or Andrew Wiggins, depending on what the Cavs do. They might have the easiest decision of any team on Thursday.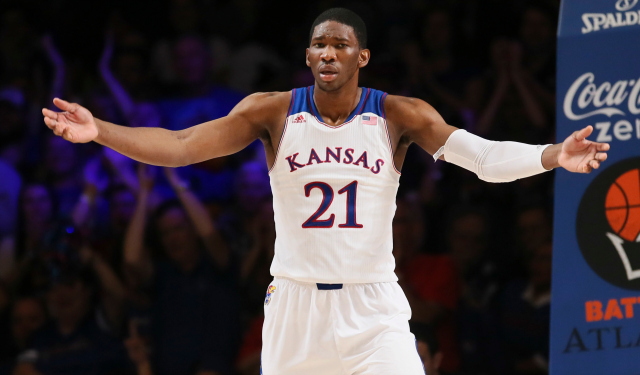 Portis left Nikola Mirotic with facial fractures and a concussion after an altercation in Tuesday...

Bill Reiter and Reid Forgrave react to Hayward's injury and discuss Celtics, Cavs, Rockets...

In his Cavs debut, Rose's timely cut opened up Kevin Love for a 3-pointer which sealed the...
If the 21-year-old wing takes the next step, Washington could be much more dangerous this time...

Minnesota is another team poised to make the leap from pretender to contender

The 76ers are trying to prove that they're finally for real behind Joel Embiid and Markelle...