Bucks fans begin movement encouraging the team to tank
Fans want to raise money for a billboard in support of letting the team know they won't bail on the franchise if they lose games in an effort to improve draft standing.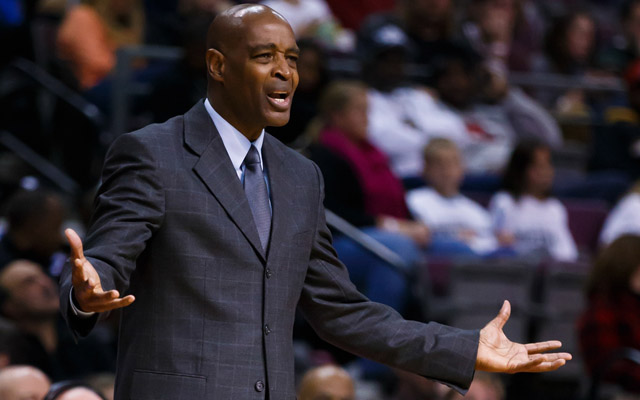 Tanking is a raging issue. Sportswriters with nothing better to do like to harangue the league for the trend of teams setting themselves up to have poor seasons in order to increase their lottery odds and get a higher draft pick. It's been called a plague, as if no bad basetball exists outside those teams who tank. (I would ask them to look around the Eastern Conference right now and see how that theory checks out.)
One team that has consistently bucked (get it, bucked?) the idea of tanking has been Milwaukee. Owner Herb Kohl doesn't believe in it, and honestly, there are questions about the financial results if the team were to truly go into the tank and give the fans no reason to come. One group of fans, however, with an eye on the future and an understanding of market dynamics as well as the reality of the arena situation in Milwaukee, has a proposal. Give in. Lose. We'll stand by you, if you go out and get a piece of this draft. They've created a petition to tell the team to tank and pledge their support should they do so. 
In order for the Bucks to regain their footing with the fans and the community, they need to drastically improve the product on the court. As we have seen with the Packers in 1992 and the Brewers in 2004, moribund franchises can be turned around quickly. The Bucks can be a successful small market franchise both on the court and financially.  However, for the Bucks to do this, they need to change their approach.  One way to help change this approach is if the fan base can let the organization know that they will support a full rebuilding of the team under a new front office direction.  This means being willing to part with high-priced journeymen veteran players and focus on building around young talent acquired with high draft picks.  The talent rich 2014 NBA draft is the place to start.
via Save Our Bucks.com Billboard Project | Indiegogo.
The group is raising money for a billboard, to actually tell the team to lose. 
This is both hilarious, and cool. That takes a smart set of fans to understand that. 
This is often made into a morality issue, both in the sense of the spirit of competition and in terms of rewarding teams for what is considered to be failure. But in reality, it's just the slash and burn nature of many cyles in life and business. You want a new building on your lot? Tear the old one down first. This draft class is worth it. 
The good news is that the Bucks are doing a great job tanking without trying to. They're 2-11 and coming off blowout losses to Detroit and Charlotte. But the payroll isn't made for tanking. At some point, Kohl won't have much choice but to accept trading off the contracts on roster and get ready for June's draft. A hit there could save professional basketball. But that's the rub with the lottery. Falling out of even the top four could mean more mediocre-to-bad basketball for the city's future, and nothing but a lost season to show for it. 
Soon-to-be-Commissioner Adam Silver said in the preseason that the issue of a new arena in Milwaukee, something taxpayers have resisted, is vital for the team's future in the city.
These decisions aren't easy, but I can applaud these fans for facing the reality of the system and getting out in front of what are likely to be questions about Milwaukee's long-term viability as an NBA city. 
CBS Sports HQ Daily Newsletter
Get the best highlights and stories - yeah, just the good stuff handpicked by our team to start your day.
Please check the opt-in box to acknowledge that you would like to subscribe.
Thanks for signing up!
Keep an eye on your inbox for the latest sports news.
Sorry!
There was an error processing your subscription.
Steve Ballmer's Clippers currently share the Staples Center with the Lakers

Turns out commenting 'WELL DAMN!' on your friend's wife's photo is a bad idea

His wife, Chelsea, has already called the FBI, according to the Sixers veteran
Curry, drafted No. 7 overall in 2009, has spent his entire career so far with the Warriors

Harding becomes just the second-ever former WNBA player to become a full-time scout in the...

Magic was back on "Jimmy Kimmel Live!" talking about the upcoming season