Bucks formally fire Larry Drew as coach in wake of Kidd hire
As expected, the Milwaukee Bucks have fired coach Larry Drew after trading second-round picks for Jason Kidd to be the coach.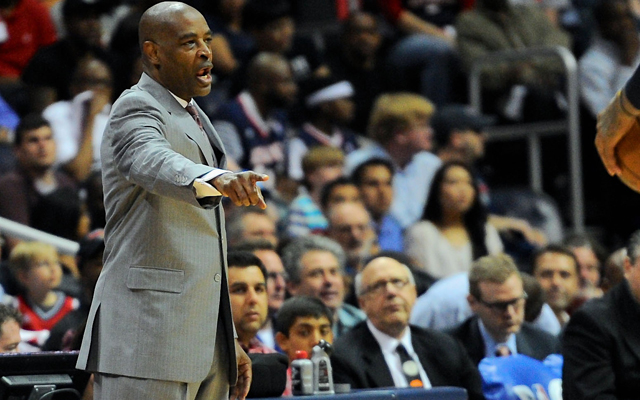 More Offseason Analysis: Coaching changes, news | Free Agency | Draft
Update: It's official, with Bucks general manager John Hammond commenting in a statement:
"Despite the challenging season, Larry always handled himself and represented the Bucks in a first-class manner. Larry did the best he could in a difficult situation, especially given all of our injuries. I want to thank Larry for all of his efforts, and we wish him the best of luck in his future endeavors."
Aaaand the Nets have chimed in with an official statement, too:
Brooklyn Nets General Manager Billy King announced today that the organization has permitted Jason Kidd to pursue a coaching opportunity with the Milwaukee Bucks. In exchange for allowing Kidd to depart, the Nets will receive two second round draft picks (2015 & 2019) from Milwaukee. A search for a new head coach will begin immediately.
Billy King will meet the media at 10 a.m. ET on Tuesday. That won't be awkward or anything.
---
The Milwaukee Bucks have a new coach after trading multiple second-round picks to the Brooklyn Nets for Jason Kidd. Kidd will take over the Bucks' sidelines after a failed attempt at a power play for personnel control with the Nets in addition to his coaching duties. While the move by Kidd wasn't favorable with the Nets' brass, he managed to avoid punishment and still retain a coaching position by finding his way to the Bucks. There is just one more loose end that needs to be tied up in the ordeal.
The Bucks have to fire their current coach Larry Drew. According to Brian Windhorst of ESPN.com, Drew has been formally fired after a meeting this morning and the sidelines are all Kidd's now.
Larry Drew has been formally fired as coach of the Bucks, sources told ESPN

— Brian Windhorst (@WindhorstESPN) June 30, 2014
Drew took over as the Bucks' coach before the 2013-14 season when he was hired following Jim Boylan's interim coaching stint in the 2012-13 season. Boylan replaced Scott Skiles after Skiles was fired following a 16-16 start. Drew signed a three-year deal to coach the Bucks and lasted just one season. Milwaukee had the worst record in the league at 15-67.
Larry Hartstein has his finger on the pulse of Kings basketball and just released a play for...

One reported proposal has seeds 7-10 playing for the final two spots in each conference

The longtime Maverick says he's disappointed by all the negative news surrounding his beloved...
Larry Hartstein has nailed 17 of his last 22 NBA against the spread picks and locked in a play...

The NBA is reportedly entertaining the notion of a play-in tournament for the postseason

Cuban has had multiple interviews since the investigative report on the organization surfaced...