Bucks frustrated with lack of identity and game plan
O.J. Mayo and Brandon Knight express frustration with minute allotment and lack of coherent gameplan.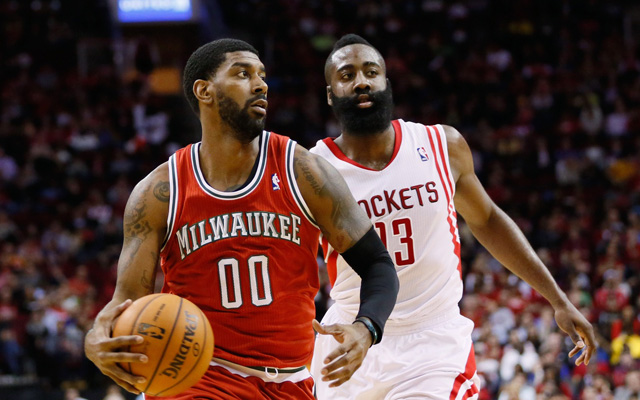 Eventually, the circle's going to break. No matter how tight a locker room is, and the Milwaukee Bucks aren't exactly strung with high-tension wire, there's a point where the losing will cause fractures. And that's happening as Bucks guards O.J. Mayo and Brandon Knight voiced their frustration with coach Larry Drew's minute allotment and the overall direction (or lack thereof) of the franchise. 
Bucks guard O.J. Mayo said big changes are needed for the team to shake out of its current malaise.

And Mayo did not express much optimism things would get better following the Bucks' 114-104 loss at Houston on Saturday night. 

"It's the same thing it's been night in and night out," Mayo said. "it's been the same result, whatever the game plan has been.

"It's hard to get a rhythm when you don't know what's going to happen for you night in and night out. You may get 6 minutes, 30 minutes. There's no staple to what we're doing. You can hang in there, compete and keep it close.

"If you don't have a backbone to what you do, whether it's going to be a defensive thing, an up-tempo thing, a pound-it-in-the-paint thing, a drive-and-kick thing. We've got to find a staple as a team."

"You look around the league, you've got some teams that are defensive teams," Mayo said. "You've got some teams like (Houston) and the Warriors that are offensive-minded, like Portland and Denver, they're going to get up and down, spread the floor.

"You've got teams like Memphis, Chicago, physical, defensive-minded. Here we are at game 40, we don't know what we are right now. It's going to be hard to collect wins when you don't know what to expect."

"We're always knocking at the door," Bucks guard Brandon Knight said. "So we've got to find a way through our coaching staff, through our players, to break that door down."

Knight said he agreed with Mayo that a team identity needs to be created.

"That's a great point," Knight said. "If you look at the Bucks, what are we known for? We know this team here (Houston) is known for their inside presence with Dwight and scoring a lot of points. And they're going to shoot a lot of threes as well.

"So what is our identity? I think that's something we have to define and we have to play to that identity if we're going to be anywhere near the team we want to be."
via O.J. Mayo unhappy with Bucks' direction, says clarity missing - JSOnline.
The Bucks are definitely not defensive minded, with the ninth worst mark of points per possession. Yet, they're even worse at scoring, at 30th in the league with 95.8 per 100 possessions. They were lauded in the offseason for not being a part of the tank crew, trying to field a competitive team without a star, and signing the players they could, like Mayo. Instead, what they've gotten is the league's biggest train wreck.
The minutes thing is a legitimate problem. Larry Drew was hired from Atlanta, but there he had veteran players and a clear blueprint to follow for minutes. He doesn't have that in Milwaukee, and in his desperation, has tried drastic changes to try and breathe life into the team. It's not working. 
All this to say, things are bad in Milwaukee, and getting worse. 
The Warriors coach added there should be no shame in being picked last since everyone's an...

We've got all the scores, highlights and news from all of Saturday's games

The two teams have reportedly not had any substantial discussions to this point
Oladipo may be getting most of the shine, but this second-year big man has been phenomenal...

SportsLine's Mike McClure, a DFS pro with more than $1M in winnings, gives optimal lineup...

The Lakers were just 2-14 from the stripe