Bucks' Jabari Parker: 'I'm just trying not to be that bust'
The Milwaukee Bucks selected Jabari Parker with the second pick in the draft and he's aware of the historical busts in that draft slot.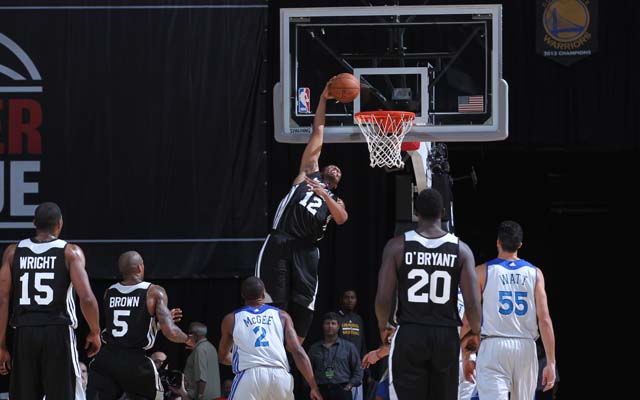 More Offseason Analysis: Coaching changes, news | Free Agency | Draft
People don't generally like to think of top draft selections as busts right away when they're drafted. Draft picks, especially at the top of drafts, are filled with potential and excitement for the team and their fan base. Some of them end up becoming busts and that usually costs executives and coaches jobs and a franchise the chance to maximize the progress of their team. It's something the Milwaukee Bucks and No. 2 overall pick Jabari Parker are hoping doesn't happen to them.
With Parker being the second pick in the draft, he's aware of the history behind No. 2 picks. Brett Pollakoff of ProBasketballTalk has a very self-aware quote from Parker in which he admits there have been a lot of busts at the second selection in the draft and he's reminding himself he has to work his way up to eventually getting into the top tier of players in the NBA. He's not going to simply assume he can be successful because of his talent at this point.
"There's been a lot of second pick busts," Parker said Saturday morning, at the grand opening of the redesigned Jordan space inside Nike Chicago. "I'm just trying not to be that bust. Everyday that I step on the court, I just remind myself that I have a long ways to go. If I want to be one of those guys in the first tier of the NBA, like a LeBron, like a Kobe, like a [Blake Griffin], then I have to have that mentality starting off from the ground, and work my way up."
Over the 15 years prior to Parker's selection by the Bucks, you can safely peg Stromile Swift, Jay Williams, Darko Milicic, Michael Beasley, Hasheem Thabeet, Evan Turner, and Derrick Williams as busts. You can also say guys like Marvin Williams, Emeka Okafor (less so here but in comparison to what his competition Dwight Howard ended up being), and Michael Kidd-Gilchrist (so far, although he certainly has a long career ahead to change the narrative) as disappointments. Even Tyson Chandler took a few years and a few team changes before he really got his career going as one of the most important at his position.
Only LaMarcus Aldridge and Kevin Durant are sure-fire success stories over that time, and Steve Francis wouldn't even play for the team he was drafted by, forcing a trade as a rookie. The second selection in the draft is a tricky situation. Victor Oladipo went to the Orlando Magic last season at No. 2 and he almost won Rookie of the Year. Parker could very easily keep that pick selection at 2 headed in the right direction by continuing to build on an impressive scoring game. 
Fergie: 'I'm a risk taker artistically, but clearly this rendition didn't strike the intended...

Victor Oladipo had a successful R&B album over the offseason and Jamie Foxx is a fan

Klay Thompson makes sure he stands out during All-Star Weekend
There's no shortage of moments to choose from

The Trail Blazers almost traded for Charles Barkley, but when they didn't, it put them in debt...

The self-proclaimed ASG snub Williams may be bitter about Butler requesting to sit out Sun...