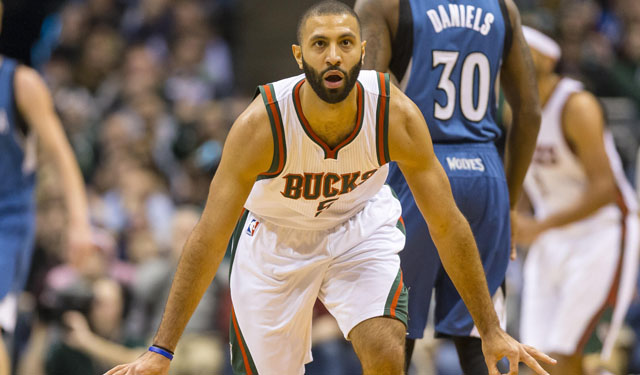 Kendall Marshall found new life in his career last season when he rebounded with the Los Angeles Lakers. After being drafted in the lottery by the Phoenix Suns, he was traded after a disappointing rookie season in which it looked like he might not belong in the NBA at all. He was waived by the Washington Wizards before the start of last season and then signed by the Lakers in December. It was in Los Angeles that he finally showed off that remarkable passing ability and seemed to have fixed his shot a bit.
The Lakers waived him for salary purposes this past summer and the Milwaukee Bucks claimed him off waivers. He was a quality backup to Brandon Knight this season before injuring his knee in Thursday's game in London. The Bucks announced Saturday that his knee injury is an ACL tear and he'll miss the remaineder of the season.
Milwaukee Bucks General Manager John Hammond announced today that guard Kendall Marshall will miss the remainder of the season after suffering a torn anterior cruciate ligament (ACL) in his right knee during the second period of the Bucks win vs. New York in London on Thursday, Jan. 15.

This morning Marshall underwent an MRI (Magnetic Resonance Imaging) exam that confirmed the injury after being evaluated by team orthopaedic physician Dr. Michael Gordon. Surgery to repair the injury will be scheduled at a date to be determined.
In 28 games with the Bucks, he averaged 4.2 points and 3.1 assists in 14.9 minutes. He also shot a career best 45.5 percent from the field and followed up last season's great 3-point shooting of 39.9 percent with 39.1 percent accuracy from downtown this season.
The Bucks already have lost star rookie Jabari Parker to an ACL tear this season and recently waived Nate Wolters on January 9. Wolters was signed two days before Marshall's injury by the New Orleans Pelicans.