Bucks' Larry Sanders won't be charged in altercation
Allegations against Larry Sanders have been dropped as the center won't be charged in an alleged altercation that happened at a bar.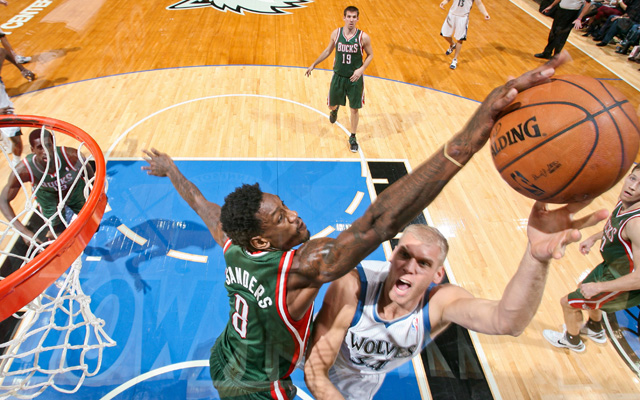 Bucks center Larry Sanders won't be charged after a nightclub altercation, according to authorities. 
Sanders was held out of the Bucks' 109-104 win over the Cavaliers on Wednesday as an investigation of the incident happened. 
According to TMJ4 in Milwaukee, police said they were looking into a huge fight from last Saturday night at Apartment 720 on Milwaukee Street, downtown. Allegedly the fight happened in a VIP room where Sanders threw punches and broke champagne bottles over the heads of people while security tried to break up the fight. 
However, after a review, the Milwaukee County District Attorney said no one would be charged. 
Sanders, 24, signed a four-year, $44 million extension this offseason and is averaging 2.7 points and 3.7 rebounds this season.
Is it just a normal workout, or is LeBron continuing his recruiting efforts?

Chris Bosh answered on the spot about the LeBron James and Kyrie Irving situation

LeBron James is pitching free agents on Cleveland but the Cavs can't even reach Kyrie Irving...
Thanks to the Rockets, the Nets might be open to selling a controlling stake

Stephen Curry likes what he sees in this fan

How the Cavs star would fit with the Wolves, Knicks, Clippers, Spurs and other teams linked...