Bucks owners express support for Hammond, Morway, Drew
New Milwaukee owners Marc Lasry and Wesley Edens spoke positively about John Hammond, David Morway and Larry Drew on Thursday.
• 1 min read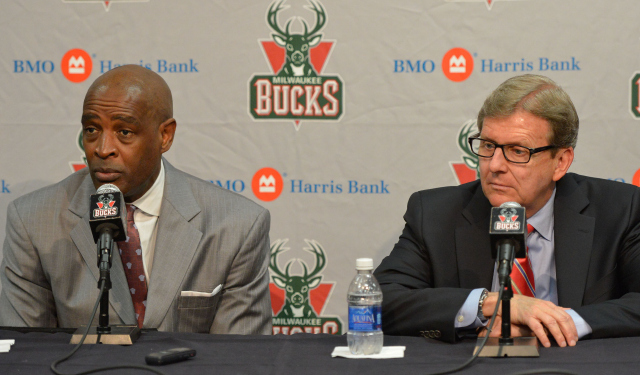 More Offseason Analysis: Coaching changes, news | Free Agency | Draft
The Milwaukee Bucks tried to make the playoffs last season and won 15 games, and yet it sounds like new owners Marc Lasry and Wesley Edens are planning to keep general manager John Hammond, assistant general manager David Morway and head coach Larry Drew around, via the Racine Journal Times' Gery Woelfel. 
"I think, on the basketball side right now, John, David and Larry, at least from all the dealings we've had, they have been doing a great job," Lasry said.

…

Lasry said, "I have a ton of respect for John and David. I think they know their stuff. I would tell you I don't think that we (he and Edens) know our stuff (about basketball dealings). They are very good and have a phenomenal track record, so that's no issue for us."

So they will then be a part of the Bucks next season?

"I think so," Lasry said. "Absolutely."
Woelfel reported that "the general consensus" around the league at the draft combine in Chicago earlier this month was that the Bucks would clean house. Edens also praised Hammond and Morway, but didn't guarantee that they'd be back:
Said Edens: "I don't believe in artificial timelines in these things. These guys have great resumes. My interaction with them has been really positive. Every day is a new day, just like it is with every other business we run. So there's no timeline.

"We want to get to a place where we have a great organization and we love the people that run it."
Earlier this month, Grantland's Zach Lowe reported that the future of the front office was uncertain, but the safe bet would be for everyone to get at least one more year.
Fans might want a change in direction, but if Milwaukee sticks with the status quo it'll be fascinating to see how the summer shakes out. The Bucks already have promising young players in Giannis Antetokounmpo, John Hensonand Brandon Knight, plus the No. 2 pick in the draft. If Larry Sanders rebounds from last season, they could make a leap next year depending on what happens with the rest of the roster. 
Leonard, who has played just nine games this season, has once again been shut down by the...

LeBron James received a touching note from, well, LeBron James

Kyle O'Quinn has reportedly drawn interest from the Warriors
LeBron James will try to finish off his 30,000 point milestone tonight when the Cavaliers play...

The old rivalry of Celtics-Lakers is renewed once again, but the stakes are still pretty l...

David Blatt thinks Cleveland players aren't doing enough for Tyronn Lue and the rest of the...