Bucks re-sign GM Hammond to three-year extension
Milwaukee re-signs GM John Hammond to a three-year extension.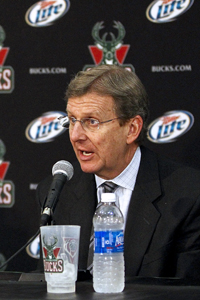 Bucks GM John Hammond has been given an extension.
(Getty Images)
There will be no blow-up, no new direction. Change is not coming to Milwaukee, and all that's left is to figure out if maybe that's a better thing than we thought. Following the mutual parting of ways between the Bucks and coach Scott Skiles, there was speculation that the team might go in a dramatic new direction. GM John Hammond was in the final year of his contract, as is explosive guard Monta Ellis. 
But while the floor general is gone, it appears the man behind the scenes will remain the same. The Bucks announced Wednesday they have reached an agreement on a three-year extension with Hammond to remain their GM. 
Ken Berger of CBSSports.com reports that the deal is for $1.8 million per season. 
The Bucks have not been bad under Hammond is probably the best way to express it. They've had two strong seasons, or one and a half, counting this one, but they were typically a few games under .500 during his first four years with Milwaukee. Much of that can be attributed to the repetitive injuries to Andrew Bogut, before the Bucks finally gave up on the dream of the big man staying healthy through a whole season. 
So now the question is, if Hammond gets bold and goes in a new direction with the roster, moving away from the strategy he built towards for years, or if he doubles down on the slow-build with the hope of an explosion. He has a number of uncertain variables to navigate, not the least of which is Brandon Jennings' impending restricted free agency. 
Hammond has been underwhelming compared to expectations -- and very good when you consider circumstances. So as always seems to be the case with Milwaukee, we're in "wait and see" mode.
The NBA's City edition Nike jerseys are bold and very different

The Wolves may be smoke and mirrors, but the Pacers have the look of a team that can hang in...

LeBron said it might be difficult if the Lakers rookie ducks out of the way before he gets...
Galin Dragiev has his finger on the pulse of the Mavericks and just locked in a play for Thursday's...

The Crimson Tide point guard has been impressive so far and joins the top tier of prospect...

The speculation has been rampant, but seeing James in purple and gold is far from a sure t...