Bucks sold to hedge fund partners for record $550 million
The Milwaukee Bucks will stay in Wisconsin as part of a new ownership deal that was announced on Wednesday.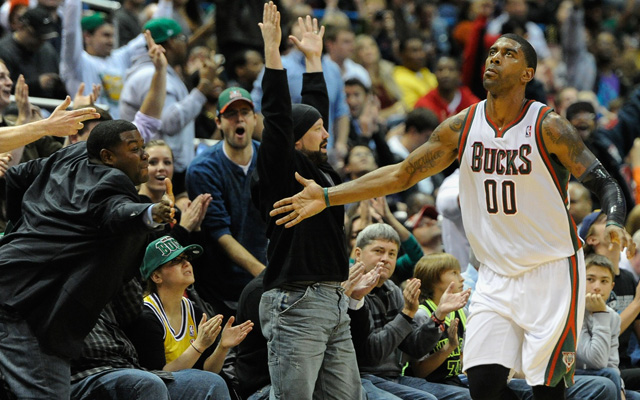 More Bucks: Power Tankings | Silver talks future in Milwaukee 
The Bucks announced Wednesday that owner Herb Kohl has sold the team to a hedge fund group headed by Wesley Edens and Marc Lasry with explicit conditions to keep the team in Milwaukee. 
"My priority has always been and will continue to be keeping the Bucks in Milwaukee," said Kohl in a statement. "This announcement reinforces that Milwaukee is and will continue to be the home of the Bucks. Wes and Marc agree, and they share my commitment to the long-term success of this franchise in Milwaukee."
Along with selling the team, Kohl has pledged $100 million to assist in building a new arena for the franchise in Milwaukee.
"Today's announcement signals the start of a new, exciting era for the Milwaukee Bucks," said Kohl. "Now, with a long-term commitment from the new owners and major components of the funding in place for a new arena, we need to come together as a community to develop plans for a new sports and entertainment facility that will host more than 200 events a year, including Bucks games. I am confident we will do this."
Kohl, a former Senator, bought the team for $18 million in 1989. So even with inflation, he's turning a hefty profit. He's headed for retirement and the move means a younger ownership group in place. 
Kohl is expected to remain as a minority owner, and reports from Milwaukee indicate that he will be putting at least some of the sale proceeds back into a fund for a new arena, the biggest obstacle for the team. The NBA has made it clear in recent months that a new arena is imperative to keeping the team in the city. Thus far, public sentiment has been resistant to any new tax effort to fund a new building. 
Lasry made over $280 million last year. A Forbes magazine listing in 2008 listed Edens' net worth at $1.2 billion. 
"We would like to thank Senator Kohl and his team for their support and cooperation throughout the purchase process," Lasry and Edens said in a statement. "The Senator has provided the Bucks with nearly 30 years of dedicated stewardship, and we are very excited to join Bucks fans, the city of Milwaukee and the NBA to build the long-term success of this franchise. Having attended various sporting events in Milwaukee and Green Bay over the years, it is easy to see why the greater-Milwaukee area is such a storied sports atmosphere.
"We are lifelong basketball fans who are committed to the success of the Bucks and the identity of the team as a part of the city of Milwaukee," they continued. "It is our vision for this franchise to be admired both locally and nationally for its success on the court, the quality of its organization and the loyalty of its fan base. Having each built competitive teams in the business world, we will apply that same intensity and determination as owners of the Milwaukee Bucks. We are as passionate and energized as Bucks fans are about bringing home an NBA championship to Milwaukee."
Jonah Keri talks with NFL and NBA broadcaster Ian Eagle

SportsLine simulated Wednesday's Nuggets-Clippers game 10,000 times

Galin Dragiev has his finger on the pulse of the Lakers and just locked in a play for Wedn...
No more McNuggets allowed in the Barnes household

Leonard has played in only nine games this season for San Antonio

Pierce is set to have his jersey retired on Feb. 11, but there's been a lot of controversy...