Bulls' caution to Rose's 'soreness' warranted, sign of long road ahead
Derrick Rose missed Saturday's exhibition in Rio with knee soreness. The Bulls say if there's any soreness, they'll keep him out. Is that the right approach?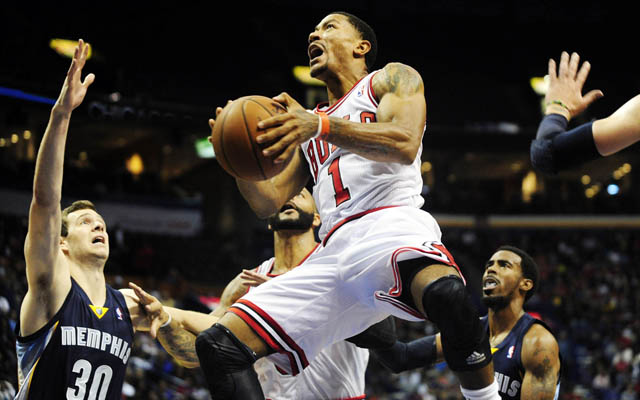 When Derrick Rose returned a week ago in his first preseason action against Indiana, we all couldn't believe how good he looked. Sure there was some rust; a few turnovers dotted his box score and he seemed to be figuring out how to get into the flow of an NBA game. But there was no hesitation driving into Roy Hibbert, no awkwardness on his crossover. He finished through contact; he sped up and down court.
It wasn't -- forgive me -- Rose-colored glasses that led so many fans and media members to proclaim, simply that "Rose is back." It looked like it. He had no soreness the day after; he practiced and played through the week. It was going great. 
Then on Saturday, with the Bulls in Rio, word came down: Rose would miss the Bulls' exhibition game in Brazil with "knee soreness." The team claimed loudly it was precautionary, despite the soreness. Rose told reporters that if it were the regular season, he would play, that in fact he wanted to play but the team made the decision to sit him. 
And the precautionary tale rings true, except for the fact that Rose already suffered the torn ACL which held him out for nearly 18 months, over 500 days without logging a single game against NBA competition. At this point, isn't it more accurate to describe it as "cautionary?" 
And if you want to know how serious the Bulls are taking the situation? How about this from GM Gar Forman?
Rose, of course, isn't any other player. And his soreness jarringly contrasted with how great he has said he has felt throughout training camp. As recently as Thursday, Rose said he was surprised with how good he has felt throughout.

General manager Gar Forman said Rose's soreness began during the latter portion of Friday's practice that was closed to reporters. Rose didn't finish the session.

"If there's soreness, then we're going to rest," Forman said. "Any time you're dealing with any type of injury or soreness you're concerned. But it's not a major red flag or huge concern."
via Chicago Bulls news: Derrick Rose out with left knee soreness -- chicagotribune.com.
"If there's soreness, then we're going to rest." 
Well, good thing Rose doesn't play point guard as the star player for an NBA team. 
This isn't meant as some (pre)cautionary tale about how Rose's comeback is in jeopardy. He's done what he should, and honestly, the team is doing what it should. They can't risk a setback; they can't ignore warning signs. I can't blast them for treating Rose with kid gloves and then turn around and torch them when Rose winds up back on the shelf. The point is simply that Rose's injury was not only severe in the sense that he tore his ACL, but that it was more traumatic than most ACL injuries. 
This is a long road the Bulls and Rose are looking at. There's going to be soreness. And eventually, he'll have to play through it. The team knows that. They're right to hold him out of a meaningless exhibition. Learning to play through soreness again can come much later. Right now it's baby steps to get him in the best position to compete on Day One of the regular season. 
The key for fans and media will be to not overreact either way. Let's not pop up with "Uh-oh, there's trouble in the land!" and we shouldn't brush this off either. Rose is still (yes, still) recovering from a traumatic injury and that process is going to have setbacks. One of these games, he's going to land awkwardly. Pain's going to shoot through his knee, and he's going to limp. It'll scare Rose, scare coach Tom Thibodeau, scare the fans, and make Paxson's heart skip a beat. 
Rose likely will miss games with other ailments. But the spectre of that terrible day in Chicago when he went down is going to loom over everything for a while. 
Yes, Derrick Rose is back. Yes, he looks good. No, there's no reason to panic. But neither Rose, nor the Bulls, nor any of us watching this unfold can get ahead of ourselves. It's no longer about getting back, it's about going forward. And that's a much longer road ahead. 
SportsLine's Mike McClure, a DFS pro with more than $1M in winnings, gives optimal lineup...

LeBron had 29 points, 11 rebounds, and 10 assists in the Cavs' 109-100 win over the Jazz

The montage showed Carmelo's best Knicks moments before playing the Thunder game
KCP can't leave California for 25 days due to the terms of his pleading guilty to a misdemeanor...

Keep it right here for all of the news, notes, scores and highlights from around the leagu...

LeBron tried to keep what he said a secret, but one mic on the court picked it up