Bulls' Derrick Rose out with left knee soreness Saturday
Derrick Rose will sit the Bulls' preseason game Saturday against the Wizards because of left knee soreness.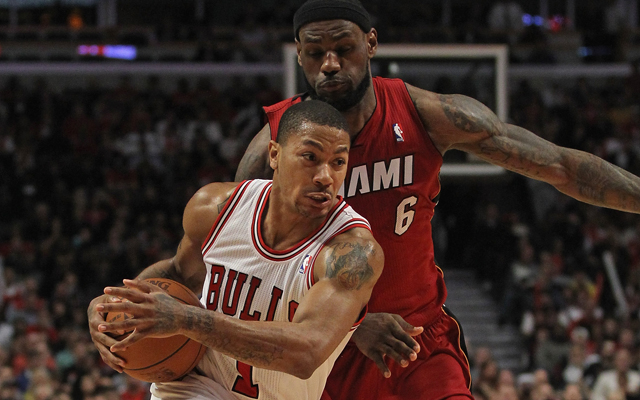 You might want to sit down, Bulls fans.
Per the Chicago Tribune, Derrick Rose is sitting the Bulls' preseason game Saturday against the Wizards because of left knee soreness. 
The team says it's "precautionary."
That left knee is of course the surgerically repaired one that Rose tore his ACL in during the 2012 playoffs and missed the entire 2012-13 season rehabilitating. 
Rose has appeared in both preseason games for the Bulls, looking a lot like his old self with explosive drives to the basket, but he played only 20 and 23 minutes in the two games. Rose declared in early September that he was "100 percent," but he obviously might need to slow things down just a bit. 
It's not unusual for Rose to be sitting since this is indeed a preseason game, but there is hyper-concern surrounding Rose's knee, particularly because of all the time off he had last season. There were worries that he wasn't healing properly or was experiencing complications or setbacks, but all the while the message was the same -- Rose is fine, he'll return when he's ready. 
Rose spoke to reporters about it and said it was no big deal.
"I'm good. I could've played, but the front office made the decision to sit me out. I can't complain about that," he said. "It's nothing huge. I know that I should be able to go next game."
Again, the team is deeming this precautionary and it very well may be. Rose hasn't played live NBA action since April of 2012 and with full contact practices and games, he might just need a little break. Let's just hope that's all it is. 
Cavs star chose to be very secretive when talking to Lakers rookie after Thursday's game

New York announced Porzingis would not return shortly after star forward left game

Teletovic missed the final three months of 2014-15 season with Nets recovering from same i...
Keep it right here for all of the news, notes, scores and highlights from around the leagu...

The NBA's City edition Nike jerseys are bold and very different

The Wolves may be smoke and mirrors, but the Pacers have the look of a team that can hang in...