Bulls' plane lost two engines on takeoff
The Bulls' plane lost two engines last week. That's not good.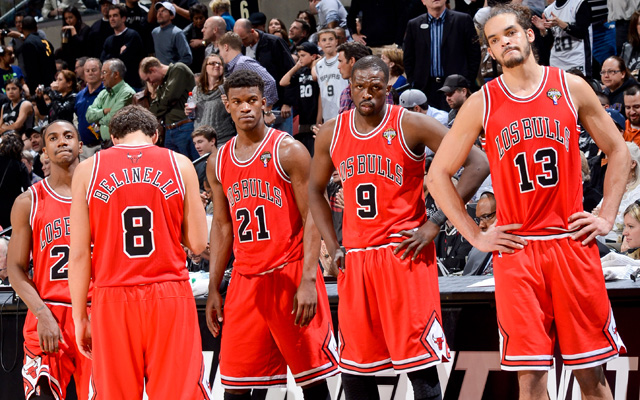 If any members of the Chicago Bulls weren't afraid of flying, they might be now. The Bulls' chartered plane lost two engines (two!) on attempted takeoff last Saturday. From Bulls blog Bulls by the Horns:
Bulls radio analyst Bill Wennington described the incident on ESPN 1000′s "Waddle and Silvy Show": "Apparently a compressor in engine No. 3 had some trouble, and it sounded like it exploded, but I guess it's like a jet engine backfire, which is very loud. Sparks fly out of it. It happened actually right after … the captain thrusts the engines forward and it revs up and starts to go, about three seconds after that you hear a 'Boom!' 'Oh, what was that, are we stopping?' The plane keeps going down [the runway] and you're thinking, 'Oh no, why aren't we stopping?'

"It was funny, because we're in the back of the plane, and the engines are right by us, and we hear it. They can't hear it [in the front of the plane]. And apparently they couldn't feel anything. And so we take off fine, and about five minutes later, two more booms, 'Boom!, Boom!,' and a couple people saw flames and sparks and stuff flying out [while looking out of] the window. We're all thinking, 'Well, it's been nice.'"
via Putting basketball in perspective ».
"Well, it's been nice." 
Oh, man. 
I'm getting a panic attack and I'm on the ground just reading this stuff. From the New York Daily News: 
"It was really scary. We thought we were going to go down," Bulls TV analyst Stacey King told ESPN Radio Chicago's "The Waddle & Silvy Show. "I'm not going to sit up here and lie, if I had a teddy bear, I probably would have been grabbing it."

"Everyone remained pretty calm, but you can see a lot of faces of concern and a couple of Hail Marys going up."
via Chicago Bulls survive scare from team plane when engine blows, Mark Cuban, Chicago Blackhawks lend jets to team - NY Daily News.
So that's largely terrifying.
They did get the plane turned around and returned to O'Hare. Since then, while the plane's been in maintenance, they've borrowed a plane from the Blackhawks, and an unlikely source ... Mark Cuban.
Our plane broke, @mcuban loaned us his, nice guy... lockerz.com/s/286239929

— Louis Amundson (@LouAmundson17) March 7, 2013
I'm sure this isn't as big a deal as it sounds, but as someone who gets anxious on planes, I would have had to have been pulled off the ceiling with a rake after this. Thankfully, all's well that ends well. Except for, you know, the Bulls on the court; they are in a freefall with injuries. 
Thomas was traded to Cleveland yet some fans are taking it out on him ... and his jerseys

The Celtics dealt the No. 1 pick to Cleveland as part of the Kyrie Irving-Isaiah Thomas tr...

Thompson was rumored to have been a point of discussion with the Cavs regarding Kyrie Irvi...
What the Celtics and Cavs look like after the Eastern Conference powers swap point men

Simmons was the No. 1 pick in the 2016 NBA Draft but did not play last season

Wade leaving Chicago is reportedly a matter of when, not if