Bulls' Rose a spectator -- for now and for foreseeable future
Derrick Rose, one of the most dynamic competitors in basketball, was once again relegated to the role of spectator -- a mere bystander to the kind of intense, playoff crucible he once craved.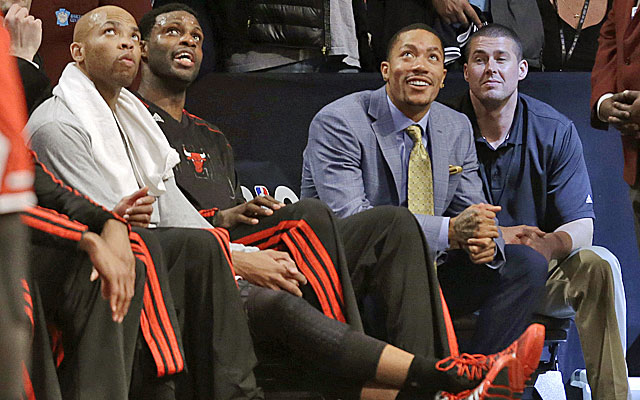 NEW YORK -- From the corner of the floor, from the last seat on the Bulls' bench, Derrick Rose stood a few feet from the herringbone floor at Barclays Center and cheered.
One of the most dynamic competitors in basketball was once again relegated to the role of spectator -- a mere bystander to the kind of intense, playoff crucible he once craved.
And still does.
"He really wants to play," teammate Luol Deng was saying in the visiting locker room, after the Bulls became the first road team to win in these playoffs with a 90-82 victory in Brooklyn on Monday night. "And this decision, even though people are coming down on him, it's really killing him. It's really hurting him. I know how much he wants to be out there with us."
More on Bulls-Nets
Related links
But he hasn't been, and won't be. For now and for the foreseeable future, a spectator is all Derrick Rose will be in this first-round series with the Nets.
"I know that for a fact," a person briefed on Rose's non-timetable timetable said after the game.
It has been nearly a calendar year since Rose went down in agony in Game 1 of the 2012 playoffs against Philadelphia. Torn ACL. Done. It was April 28, 2012, and Rose still has not returned despite practicing for weeks after being medically cleared.
It is vaguely reminiscent of an experience from Bulls coach Tom Thibodeau's past life, when he was an assistant with the Knicks in 1997-98. Patrick Ewing had fractured his wrist in December and missed the rest of the regular season -- a career-threatening injury and one from which Ewing never fully recovered. But he made it back for the second round of the playoffs, a series the Knicks ultimately lost to their bitter rivals at the time, the Pacers.
"That experience taught me that it's the right thing to do," Thibodeau said. "If Derrick can come back, we want him back."
The Bulls have said only that Rose will be back when he's ready, and he clearly isn't. It would be unfathomable -- "I'd be shocked," one rival GM told me recently -- if Chicago brought him back during the playoffs without so much as a regular season tuneup. No matter Rose's MVP resume, regardless of his competitive instincts, the physical and mental demands of the NBA playoffs are not for the uninitiated.
He can't simply peel off his steel blue blazer, put on his uniform and be Derrick Rose again, just like that. Although Deng was careful to note, if that's what Rose wants to do, nobody is going to stop him.
"If Derrick comes in this locker room and says he wants to play tomorrow, his uniform is ready," Deng said. "If he doesn't, we're with him 100 percent."
Rose could only bounce up from his seat and applaud as the Bulls put on a classic Thibodeau defensive clinic on Monday night, stifling the Nets' offense to the tune of 35 percent shooting. After surrendering 56 points in the paint in Game 1, the Bulls nearly cut that number in half, to 30, in Game 2.
Even when the Nets got into the paint, they shot only 15-for-36. They understand they will be a jump-shooting team for however long this series lasts, and emerging from it will require them to wriggle free of Thibodeau's stranglehold and make more of them go down.
Gerald Wallace was 1-for-7, Joe Johnson 6-for-18 and Deron Williams 1-for-9. Williams was not the first, and won't be the last skilled offensive player to have his game ground into dust by Thibodeau.
It was fueled by the courageous efforts of Joakim Noah, who hobbled and winced through an 11-point, 10-rebound effort for 25 minutes with plantar fasciitis. When the Nets twice cut the deficit to four in the fourth quarter, Noah thwarted them with hustle plays -- keeping possessions alive, getting free for a layup, getting to the foul line, chasing down defensive rebounds. Six of his rebounds and nine of his points came in the final period.
"He is doing a lot of it on will power," Thibodeau said.
It was the kind of determination that the Bulls have displayed many times before in the playoffs, mostly with Rose's fingerprints all over it. And it was the kind of outcome -- the first road playoff win of the first round, with so much potential for more -- that left you wondering what would happen if Rose actually joined them.
"I'm sitting next to him at the end of the bench; I've been sitting in that same spot all year long," Taj Gibson said. "It's real frustrating for him. All he keeps saying is, 'I can't wait to get out there, I can't wait to get out there, I can't wait to get out there and guard that player,' and stuff like that."
"He never shut off," Deng said. "He's still within the team. … His leadership is still there."
There's only one thing missing, one shining light of the NBA who could turn the Eastern Conference playoffs upside down. But it's not happening, and the long, awkward road back for Derrick Rose continues.
Wade opted in to his $24 million player option earlier this summer

Barkley spoke to the NFL Today crew about the response the president received in his home...

The restricted free agent has a deal in place that will keep him with the Bulls after a st...
James' support continues his trend of social activism on social media

The newly-acquired All-Star thinks the addition of Anthony boosts the Thunder in the NBA's...

The Knicks were asking for the house in discussions for Carmelo Anthony