Bulls trade Luol Deng to Cavaliers for Andrew Bynum
The Cleveland Cavaliers finally have the All-Star small forward they've been looking for as reports indicate they have traded for Bulls forward Luol Deng.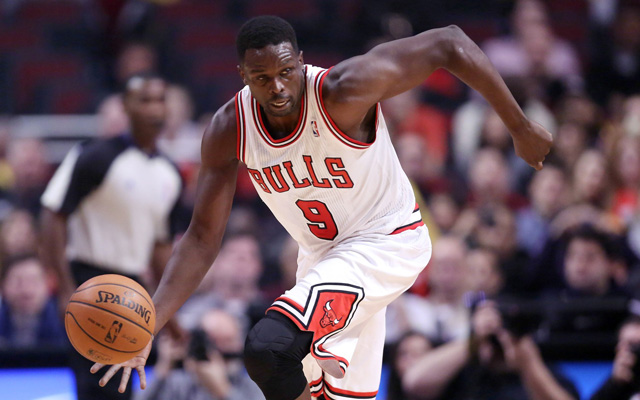 The Chicago Bulls have traded All-Star forward Luol Deng to the Cleveland Cavaliers. The Cavs will send Andrew Bynum and multiple draft picks to Chicago in the deal. From the Cavaliers' official release: 
The Cleveland Cavaliers have acquired All-Star forward Luol Deng from the Chicago Bulls in exchange for center Andrew Bynum, three future draft picks and the right to swap 2015 first round picks with the Cavs (1-14 protected), Cavaliers General Manager Chris Grant announced tonight from Cleveland Clinic Courts.

"We are very excited for Luol to join the Cavaliers organization, " said Grant.  "We have worked to acquire and maintain flexibility in order to capitalize on opportunities such as this. Luol reflects all that we are striving for in building our team. He's a tremendous defensive player that can impact the game on both ends of the court with a team first mentality and is a high character leader."

In exchange for Deng, the Cavs send Chicago Bynum,  Cleveland's right to the Sacramento King's first round draft pick conveyed in a June 30, 2011 deal, the right for Chicago to swap its own 2015 first round draft pick with the Cavs own 2015 first round draft pick (only in the case that the Cleveland 2015 first round draft pick is between 15 and 30) and the Portland Trail Blazer's 2015 and 2016  second round draft picks acquired from the Trail Blazers via a 2013 draft night trade.
Chicago is expected to waive Bynum before his $12 million guaranteed kicks in Tuesday. Deng, 28, was frustrated with Chicago over their failure to lock him into a contract extension this year and is scheduled to be an unrestricted free agent this summer. 
After Derrick Rose's second major knee surgery in three years, rumors had run rampant that the Bulls intended to blow up the core and build a new championship team around the star when he returns. This would seem to be the first move in that direction. The New York Daily News reported over the weekend that the team intends to use the amnesty provision to waive Carlos Boozer. 
Here are the protections on the Kings' pick: 
2014 first round draft pick from Sacramento's 1st round pick to Cleveland protected for selections 1-12 in 2014, 1-10 in 2015, 1-10 in 2016 or 1-10 in 2017; if Sacramento has not conveyed a 1st round pick to Cleveland by 2017, then Sacramento will instead convey its 2017 2nd round pick to Cleveland protected for selections 56-60 if this pick falls within its protected range and is therefore not conveyed, then Sacramentos obligation to Cleveland will be extinguished [Cleveland-Sacramento, 6/30/2011]
via NBA Future Drafts Detailed - RealGM.
Deng is averaging 19.0 points, 6.9 rebounds and 3.7 assists per game this season for Chicago. The Bulls traded with the Phoenix Suns to acquire Deng with the seventh pick in the 2004 draft. He has spent his entire career in Chicago, until now. 
Westbrook's late layup gave the Thunder a 109-108 victory

LeBron became the seventh player in league history to reach the milestone

There were a few things that stood out from Tuesday's All-Star selections
Here are three players from each conference who had legitimate claims to make the game

LeBron achieved the milestone in the first quarter Tuesday

Here are the full lineups for the 2018 NBA All-Star Game