By turning Love into a facilitator, Wolves could reach rarified air
The Minnesota Timberwolves have surrounded Kevin Love with a lot of talent to help him score the ball. They'd like him to use that talent within the system.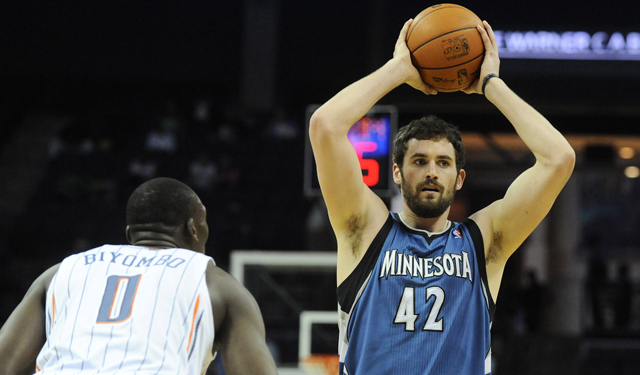 MANKATO, Minn. -- The losing seasons have piled up on the Minnesota Timberwolves.
Once Kevin Garnett departed from the Wolves, they had to decide how to rebuild the franchise and where to find the top talent to help lead the charge. In 2008, they made a trade for Kevin Love on draft night and within two years he was a breakout star with a historic season of 20.2 points and 15.2 rebounds per game. The next year, he improved to put up impressive averages of 26.0 points and 13.3 rebounds.
However, all of his individual success wasn't translating to enough victories or a single playoff berth. They were on their way in 2011-12 before a very thin roster was hit with a devastating knee injury to Ricky Rubio. The loss of Rubio that season left Love without enough help to continue to battle in the West and he resumed having to do pretty much everything himself on the court. 
Heading into the 2013-14 season, help is not only on the way but it's in training camp cutting off his shoulder toward the basket and fading to the corner to help spread the floor and give him room to operate. For the first time in his career, Kevin Love has a bevy of weapons on the court, both inside and outside, that are there to make his life easier and his team more successful.
"I think it's really important that our more skilled players become better in a lot of areas," coach Rick Adelman mentioned during his press conference on media day. "Kevin Love for example, he can be a real facilitator for the other guys. I think he can be a really good passer but now we've got people that he can pass the ball to."
That's the plan of attack with the Wolves and Kevin Love. He has Kevin Martin and Corey Brewer flanking him on the wings with Nikola Pekovic bruising opposing frontcourts inside. When Chase Budinger gets back from his injured left knee, that will add another deadeye outside shooter to spread the floor for Love and allow him to draw the defense in and make them pay with passing, or to attack his man one-on-one in the right situations.
"I've always been ... I shouldn't say, willing is not the right word, but able to pass the ball and see different things," Love said during his availability on media day. "I'm not going to go out there and pass the ball as great as Ricky Rubio does, but hopefully I'm going to learn a few things from him and just see different things out of the corner set that we have.
We have guys, and we had AK last year, but we have guys like Brew and K-Mart and different players on this team that can slash and cut to the basket and make plays. It's going to make all of our jobs a lot easier to have that help with us at those positions."
Love played in just 18 games last season, twice breaking a bone in his shooting hand that left him out of action and unable to help a team he was supposed to lead back to the playoffs. With training camp underway for the Wolves, his ability to shoot the ball and score has been back to what we remember in 2011-12, but the emphasis seems to be on getting him the ball so he can create points for the team and not just himself.
"I talked to Kevin [Love] and [Nikola Pekovic] both," Adelman said after the first day of training camp. "They've got to make passes. They've got to make plays. A lot of that is getting ready to make the pass and anticipating what these guys are going to do. You've got two guys that can really cut with Kevin [Martin] and Corey [Brewer] and we've got to take advantage of that."
For years, Rick Adelman coached the Sacramento Kings to one of the most exciting offenses in the league. They ran a lot of the action out of the high post with Chris Webber, Brad Miller and Vlade Divac handing the ball off to Mike Bibby coming around on a curl or dropping bounce passes to a cutting Doug Christie or Peja Stojakovic. With the Minnesota Timberwolves, Adelman hasn't had the opportunity to really implement his full offense due to a lack of personnel in the first season or a lack of health in the second.
"We have guys that can really shoot the ball on this team," Love said after the second day of training camp. "Whether it's Pek ducking in, whether it's pick-and-roll with Ricky and making the extra pass if they're coming to double team me, that's just something I'm going to continue to get better at." 
The combination of Love's passing ability, on both outlet passes and within the halfcourt, and Adelman's system with Martin and Brewer as the new cutters, slashers, and spot-up shooters (Brewer shot 35.9 percent from the corners), we may even see Love approach numbers that the previous All-Star power forward in Minnesota put up. Love is a virtual lock to average 20 points and 10 rebounds per game, but he could have a great shot at including five assists to those numbers and being only the 11th player in NBA history to go 20-10-5.
But any individual success won't do unless it leads to team success for the Wolves and team success means getting back to the playoffs. Otherwise, the reputation of a stat-stuffer that doesn't contribute to wins could permanently attach itself to him unless he moves on and wins elsewhere.
"He's got a lot to prove," Adelman said, "and I think he's at the point -- this is something we'll be talking about the first month -- he's at the point where he's such a skilled player, now he's got to make another step. He's got to expand his game.
"Two years ago when he had the great year, we had to have him do everything; we just didn't have the personnel. But I think some of the people we have now offensively -- the way Pek's developed, Ricky coming back healthy, getting Kevin Martin, Corey Brewer, Dante Cunningham, Derrick Williams we hope is going to make strides again -- there are more people around him. He doesn't have to do all the things he did two years ago. But he can expand his game."
Expanding his game means getting more players involved. A player with his passing prowess should average more than the 2.2 assists he has for his career. With the weapons on the floor capable of knocking down shots when he swings it from the post or drops a bounce pass to a cutter on the baseline, the facilitator role should become a natural progression that will make him just short of unstoppable on the offensive end of the floor.
"He can make all of his teammates much better and that's what all great players do," Adelman said. "They make their teammates better. I'm hoping that's what Kevin's next step is going to be."
If he can do that, the next step for Kevin Love and the Minnesota Timberwolves could very well be a return to the playoffs 10 years after their last appearance.
SportsLine simulated Friday's Sixers-Thunder game 10,000 times

Cavs star chose to be very secretive when talking to Lakers rookie after Thursday's game

New York announced Porzingis would not return shortly after star forward left game
Teletovic missed the final three months of 2014-15 season with Nets recovering from same i...

Keep it right here for all of the news, notes, scores and highlights from around the leagu...

The NBA's City edition Nike jerseys are bold and very different