Bynum on his explosiveness: 'I don't think it's going to come back'
Cleveland Cavaliers center Andrew Bynum is back playing after a season away, but he doesn't think his explosiveness is going to come back.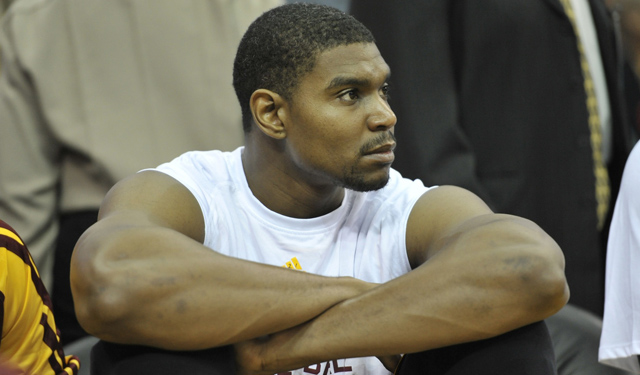 During his season away from the court in 2012-13, Andrew Bynum's existence in the NBA became kind of a joke. He had crazy hair styles that everybody kept track of and we had a couple of quirky stories about what he was doing in his time away from the court. His health though was a serious concern. He couldn't get back on the court for the Philadelphia 76ers last season and getting on the court for the Cleveland Cavaliers has seemed like a pained process at times.
He's been able to make it back onto the court but the Cavaliers have to be pretty careful with how they use him. Bynum's knee trouble still limits what he can do and he's not nearly as explosive as he used to be. According to Ohio.com, the lack of explosiveness is something Bynum believes he'll have to adjust to for the rest of his career. Apparently, it's not going to come back to him. 
The year away from basketball changed Andrew Bynum. He already admitted a few weeks ago it has made him work harder, now he's conceding it has made him a different player.

The explosiveness he once enjoyed with the Los Angeles Lakers is gone, and there's a good chance no amount of rehab will bring it back.

"I don't think it's going to come back," he said Monday prior to the Cavs' game against the Minnesota Timberwolves. "It makes you have to rely more on footwork and skills versus athleticism."
This is troubling in a lot of ways for Bynum. If he can't get his explosiveness back, it could really limit just how effective he can be on the court. There are plenty of players that learn how to adjust to a decline in explosiveness, but rarely is it just taken away and they're able to adjust on the fly. It's typically a gradual process in which you're able to pick things up here and there to continue a balance for how you perform on the court.
It's not impossible that Bynum can adjust to this, but it's just a rare thing to have happen. His skills have always been solid but he's a guy that has relied on the combination of size and athleticism to get him to overpower opposing front lines. With him still feeling pain and his conditioning being an issue, it's going to be hard to develop those skills in real time on the court. 
Luckily for Bynum, this Cavs team should be good enough to contend for a playoff spot without him being a huge factor. They seem to have prepared for anything he gives them as icing on the cake. If they can manage to keep the pressure of his play off of his shoulders and just use him as a utility weapon whenever he's available, it might be the perfect scenario for him being a successful role player in this league.
(H/T - SB Nation)
Davis left the Pelicans' game against the Nuggets in the third quarter

Popovich was upset about an out of bounds call

Wall went 3-for-12 from the field, and had just eight points in the Wizards' loss
Noah was reinstated from his 20-game suspension on Monday, but is yet to play for the Knic...

In his first season with the Cavs, Rose has not played since Nov. 7

Keep it right here for all your Friday NBA scores, updates and highlights