Byron Scott on Cavaliers firing: 'I don't think I got a fair shake'
Byron Scott doesn't think he got a fair chance with the Cavaliers after he was fired last week following three unsuccessful seasons.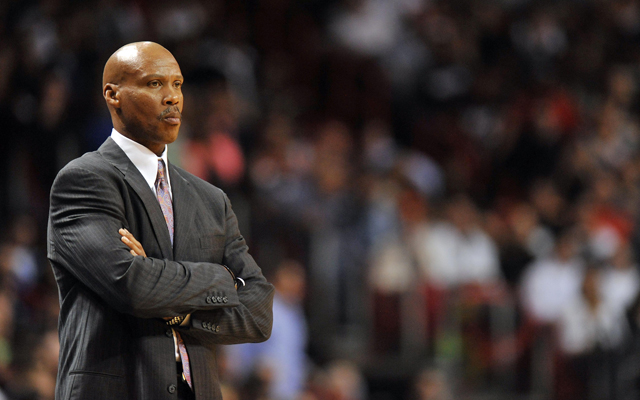 Byron Scott was fired after three seasons in Cleveland, compiling a record of 64-166. He had replaced Mike Brown, who was fired in 2010 after the Cavaliers felt short of the NBA Finals, and prior to LeBron James' departure to Miami.
Scott was tasked with an incredibly difficult rebuilding situation. He was hired right before James left, and had to take a depleted roster now missing James and figure out how to make progress. That was helped when the Cavs landed the top overall pick and drafted Kyrie Irving, an apparent franchise cornerstone piece.
But with a lack of real progress, Scott has been fired for a third time. Via the Plain Dealer, Scott expressed his disappointment in the situation and said he should've gotten a better chance to turn it around.
"I'm disappointed, more than anything," Scott said in a telephone interview. "I don't think I got a fair shake."

[...]

"I'll land on my feet," he said.
In Scott's defense, again, the situation he walked into was an uphill battle. Rebuilding the Cavs post-Decision was just about the most challenging task there was. Throw in the fact that key players spent extended time with injuries -- most notably, Anderson Varejao -- and Scott was left trying to guide a young, limited roster to wins.
Scott's right, though. He'll land on his feet somewhere. Despite this being the third time he's been fired, he's still extremely well respected in the league. He enjoyed success his previous two stops with the Nets and Hornets, and while he wasn't able to find any kind of footing with the Cavs, it was obvious all the issues weren't on him.
The team was terrible defensively, ranking in the bottom five in defensive efficiency all three seasons. And while Scott assumed he was going to be given more time in this rebuild, mainly because the Cavs are structured around a bunch of young players, the lack of traction eventually led to him being let go.
Thomas is rehabbing from a hip injury that cut short his 2016-17 playoff run with the Celt...

James wondered whether he did something to drive Irving away

Beal went on a tangent at Washington's media day about Trump's recent comments
The Cleveland Cavaliers also have 6-1 odds of landing the former Bulls and Heat star

OKC fans welcomed the 10-time All-Star at the airport with chants of 'Melo!'

Jordan joined LeBron James to show support of those who wish to exercise their freedom of...