Byron Scott on Lakers: 'I am the perfect guy for this job'
Byron Scott said in a radio interview that he has a "great relationship" with Kobe Bryant.
• 2 min read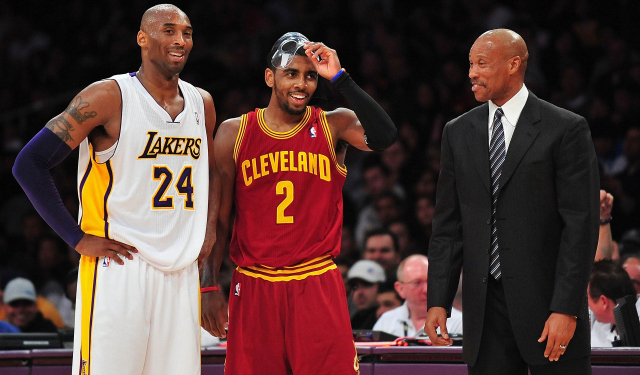 More Offseason Analysis: Coaching changes, news | Free Agency | Draft
Byron Scott interviewed with the Los Angeles Lakers for their vacant head-coaching position earlier this week and, in an interview with ESPN LA 710 AM's Max and Marcellus, he said he left the room feeling good about the way it went.
"To say the least, I thought it was a perfect fit," Scott said. "I don't know how most people feel, I don't feel I'm a very arrogant guy, but I think that I am the perfect guy for this job. And I've got a great relationship with Kobe [Bryant]. I know the team, know the roster, watched 'em all season long and I just think it'd be a great fit."
He said that 2014-2015 would have to be a bit of a rebuilding season for the Lakers, but it didn't have to be a three-or four-year process to get back to where they need to be. Scott played for Los Angeles from 1983 to 1993 and said he bleeds purple and gold, adding that the Lakers are the best organization in all of basketball. He also said that he texts Bryant during the summer and they have mutual respect.
"Obviously if I get the job, the first conversation is with Kobe," Scott said. "We have to talk about the future of the Los Angeles Lakers. We have to also talk about the type of direction we're going to be taking and also talk about the type of game that he's going to be playing because he's going to have to change his game a little bit and I think he knows that. We gotta sit down and talk about the minutes and things like that."
Bryant appeared on Jimmy Kimmel Live earlier this month and said he wanted to have input on the team's coaching search. Los Angeles general manager Mitch Kupchak said at the NBA draft combine that he talks to Bryant "about a bunch of different things," but the future Hall of Famer won't necessarily be consulted about the next coach, via ESPN. Kupchak said recently that he will be patient with the process and the sort of coach the team hires might be influenced by what is done with its first-round pick. 
Scott's had most of his success with veteran rosters, most notably leading the New Jersey Nets to the NBA Finals in 2002 and 2003. He had a tougher time with the young Cleveland Cavaliers from 2010 to 2013, but that also shows he's dealt with a rebuilding situation before. It's unclear what direction the Lakers will go, and how the team might envision Scott fitting in. In any scenario, though, it seems abundantly clear that Scott would love the chance to return to Los Angeles.
Two of the league's young, up-and-coming squads will square off on Tuesday in Minneapolis

Kawhi Leonard is set to make his season debut for the Spurs

Lonzo Ball will make his Madison Square Garden debut
Leonard, who hasn't played this season due to a quad injury, may return with more skills than...

James, who adjusted his shooting mechanics, is on par with Steph Curry's all-time great 2015-16...

Jordan Bell had himself a night against Portland