Byron Scott tells Kobe Bryant and Lakers 'be ready to play some defense'
The question is how much is "some" for a team that struggled in LA last season? New Lakers coach promising changes on the defensive end.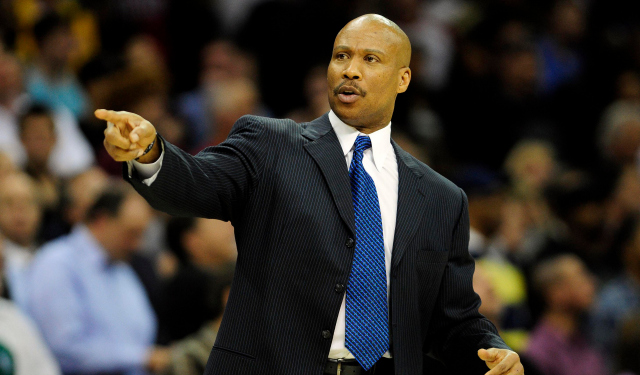 Offseason: Free Agency | Latest from Ken Berger | Rumors
ESPN spoke with new Los Angeles Lakers coach Byron Scott after he accepted the job and Scott says he texted Kobe Bryant. He also says he sent a message that will be music to Lakers fans' ears. 
Scott said he's been texting with Lakers star Kobe Bryant throughout the summer and conferring about this season's team. Bryant texted Scott this weekend after news broke that he had accepted the job.

"He told me he was working out with Wesley [Johnson] and Nick [Young]," Scott said. "I told them that sounded great, but they 'better be ready to play some defense.'"
via Byron Scott of Los Angeles Lakers not wasting time -- They must play D - ESPN Los Angeles.
Scott is known as an advocate for strong defense. His teams in New Orleans were particularly stout, especially when stocked with veterans and a rim protector in Tyson Chandler. It should be pointed out, however, that while last year's 107.9 points per 100 possessions mark for the Lakers was a disaster, and worse than Scott's final year in Cleveland, Scott's 2013 Cavaliers had a 106.9 mark. That was fourth-worst in the league, and in an offensively-limited Eastern Conference. 
But hey, at last Scott has defensive stalwarts like Carlos Boozer, Nick Young, and Ryan Kelly around to really lock down. We'll see what kind of magic Scott can pull off in LA. 
A look at the context of the schedule and who plays who when, and how far they travel during...

Durant took on rapper Lil Dicky and actually might have lost

A report that James would once again be leaving Cleveland made the rounds on Wednesday
Known for his 'take that for data' rant, the Grizzlies coach touched on a number of important...

Wade's days with the Chicago Bulls appear to be numbered

Misty Suri will reportedly keep his job with the New Orleans Pelicans