Calling John Calipari is next step for CAA-dominated Knicks
From the GM to Melo, Creative Artists Agency has its claws dug in deep with the Knicks. So don't be surprised if the CAA's John Calipari is next on the agenda.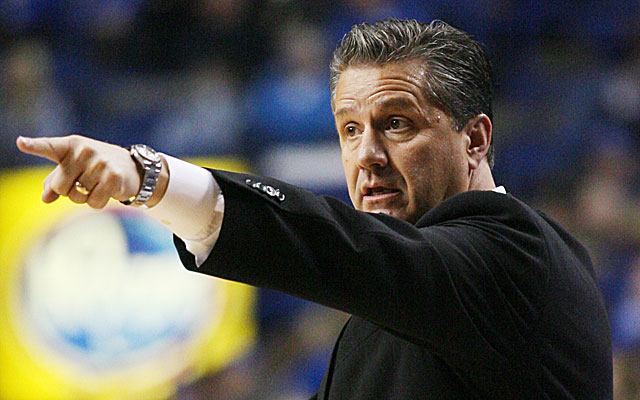 NEW YORK -- Carmelo Anthony came to New York nearly three years ago with a clear mandate. It's pretty obvious, after the Knicks lost their sixth straight home game and dropped to 3-8 on Wednesday night, that this isn't quite what he had in mind.
This is what the Knicks signed up for, though. And it's only beginning.
This isn't a snap judgment after 11 games of what so far has been a lost basketball season in New York, regardless of borough. This isn't about whether the Knicks will "dig ourselves out of this hole," as Anthony put it Wednesday night after a crushing, 103-96 overtime loss to the Indiana Pacers -- the team with the best record in the East (10-1) and the team that bounced the Knicks out of the playoffs last season.
This is about a process that began unfolding the night the Knicks finally pulled off the massive trade that brought Anthony to New York in February 2011 -- a process that will only kick into overdrive if the Knicks don't find their way out of this.
If they don't, anyone can see what's coming: Mike Woodson gets fired, company man Herb Williams becomes the interim coach and the drumbeat begins in the background for John Calipari to make his long-awaited return to the NBA.
You don't have to be an NBA executive to see that coming, but I asked some, and they see it, too. The payroll is maxed out through next season, the tools for tax teams to acquire players in sign-and-trades next summer are gone and it's not like the Knicks can sell anyone on a fallback plan of reloading with a lottery pick in the coveted 2014 draft. The Knicks' pick goes to Denver (from the Anthony trade) or to Orlando (if it's worse than the Nuggets' pick).
"Where's the excitement?" one rival executive said this week. "They have no pick, and the excitement isn't coming from winning."
You can only sell success or hope in the NBA, and if the Knicks don't find a path to winning soon, they'll have neither when it comes time to convince Anthony to re-sign as a free agent next summer. But hope -- or the illusion of it -- can be manufactured. This is especially true when the next move on the chessboard could have been predicted when the Knicks sacrificed all their pieces for Anthony.
Since the Knicks doubled down on Anthony and his representatives with Creative Artists Agency, the organization has been reshaped in CAA's image. Woodson, assistant GM Allan Houston and player personnel director Mark Warkentien all are represented by the agency. In re-signing another CAA client this past summer, J.R. Smith, the Knicks threw his brother, Chris, a bone in the form of a guaranteed contract. Chris is now toiling in the D-League while taking up a roster spot at MSG.
This kind of quid pro quo happens all the time in the NBA; the agent business, you may have heard, is not the cleanest. Across the Brooklyn Bridge, agent Jeff Schwartz managed to get his client, Deron Williams, re-signed with the Nets while getting another client, Jason Kidd, hired as the head coach. Another Schwartz client, Paul Pierce, came aboard once Kidd convinced Kevin Garnett to waive his no-trade clause so the blockbuster trade with the Celtics could be consummated.
But the Knicks are all-in with CAA in ways that few of their rivals could even imagine. Days before training camp began, GM Glen Grunwald was pushed aside in favor of Steve Mills, who was brought back for a second tour of duty due to his institutional knowledge of the Garden and connections to the game's power brokers -- especially, William "World Wide Wes" Wesley, whose path to Garden influence was paved with the Anthony trade.
CAA, via Wesley, also represents a certain decorated college coach in Lexington, Ky. Given the path they've chosen, the Knicks can't get any of the NBA-ready players on Kentucky's roster, but they can get the coach -- and are perhaps the only team positioned to pay Calipari what it would take. One league executive surmised that the bidding would start at $8 million a year.
"That's what Wes will be pushing," one of the executives said. "That's what CAA will be pushing."
Executives differ on whether Calipari would want full personnel control in addition to the coaching title. "He wants full control, bottom line," one executive said. I agree with another exec who pointed out that, when it comes to the Knicks, it is understood that CAA has the power and that it would merely be channeled through Calipari. Either way, Calipari would instantly become the most powerful authority figure the Knicks have had since Isiah Thomas finally was run out of town. Somehow, that sounds just about right.
Never mind that Calipari's last NBA coaching job, in New Jersey, was a debacle that swept him away in a toxic wave of paranoia. This only makes him the ideal candidate to work for the Knicks.
The name of the game is to keep Melo happy, and in theory, it shouldn't take much. Anthony has the stage he wanted, the market he wanted, the complete run of what they still call the World's Most Famous Arena for reasons that have little to do with basketball. What more could he want?
To answer that, Anthony must look inward: Does he have what it takes to lift the Knicks out of their four-decade championship drought before his next contract becomes just another in a long line of burdens on the Garden's books? Is this where Anthony can finally elevate his own reputation as a great talent who could not fundamentally transform a franchise?
In the Knicks' tenuous state, a magnificent effort from Anthony wasn't enough to push them past a sleepwalking Pacers team on Wednesday night. What else could he have done? Anthony had 30 points, made all 10 of his free throws (and should have shot more) and pulled down 18 rebounds -- nine offensive. He was the best player on the floor until Paul George woke up in overtime.
"We've got to get out of it," Anthony said. "We've got to dig deep within ourselves and figure out how to dig ourselves out of this hole. We dug ourselves in the hole, now we've got to dig ourselves out."
Whether he realized it or not, Anthony's words were the ideal metaphor for an organization, a player and the unholy alliances that have followed him here.
With more to come.
CBS Sports HQ Newsletter
We bring sports news that matters to your inbox, to help you stay informed and get a winning edge.
Please check the opt-in box to acknowledge that you would like to subscribe.
Thanks for signing up!
Keep an eye on your inbox for the latest sports news.
Sorry!
There was an error processing your subscription.
The Bulls have found their new top decision-maker

The two spent just one season together in Washington

NBA commissioner Adam Silver said recently that no decisions will be made until at least May
Spencer Dinwiddie made his pitch to the Chicago Bulls

Nobody has taken up the sharpshooter on his offer...yet

The players involved would compete remotely, but other details are scarce at this time
The Lakers beat the Clippers for the first time this meeting on Sunday afternoon

Giannis and the Bucks failed to best Los Angeles in their matchup LeBron and the Lakers