Can DeMar DeRozan carry the Raptors in a playoff environment?
A look at the Raptors' wing and his ability to carry Toronto in the postseason.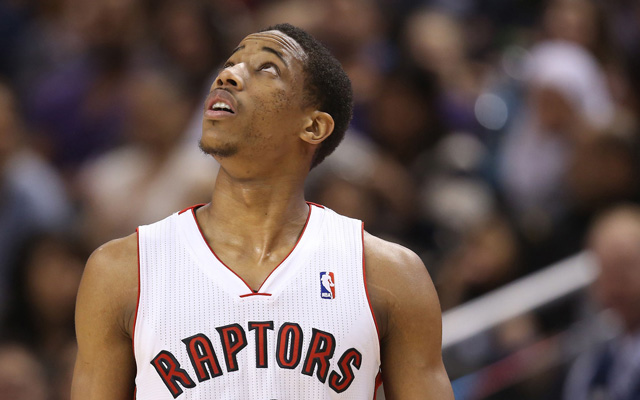 More NBA: Power Rankings | Expert Picks | Latest news, notes | Playoff Picture
On Saturday, the Toronto Raptors, who entered the season with a huge question mark, struggled out of the gate, traded their highest paid player in Rudy Gay, and were expected to blow it up and tank te rest of the year... clinched a playoff spot. They will be joining the postseason dance party for the first time since 2008. Everyone's very excited in Toronto about it. 
So.. now what? 
Now that the Raptors have secured a playoff spot and will likely win the division (check our Playoff Picture for their latest magical number update), it's time to start seeing if they can actually do anything meaningful once they get there. They're likely to have a tough matchup in the first round against either the Brooklyn Nets, Washington Wizards, or the Charlotte Bobcats (unlikely). 
Their best hope of advancing past the first round and making some noise against Miami or Indiana is to try and play a grind-it-out style and get some huge performances from their stars, Kyle Lowry and DeMar DeRozan. Amir Johnson can play the hustle card and make plays, Greivous Vasquez always surprises people, and Terrence Ross can fill it up. But Lowry and DeRozan are going to need to be great. 
Raptors Republic took a look at DeRozan and asked the question of how his game will translate to the next level. 
Opposing teams have looked to play aggressively against DeRozan, knowing that he is easily frustrated when faced with physical defence, and on nights when the refs swallow their whistles that has spelled trouble for the Raptors.

In the playoffs, whoever the Raptors face will likely employ a DeRozan-swallowing strategy for exactly that reason. When Lowry is pushed, he pushes back harder. When DeRozan is pushed, he can be taken out of his game. Those are the only two players that an opposing team will have to consistently account for in a seven-game series against the Raptors, and so if an opposing team had to choose they'd probably look to bottle up DeRozan and dare Lowry to beat them four times on his own.

If history repeats itself, then that means that the Raptors will likely be sunk in round one. DeRozan will wilt under the constant pressure and Lowry will simply be overextended trying to keep the team afloat between bouts of effectiveness from Terrence Ross, Jonas Valanciunas and Greivis Vasquez.

However, in a season of bucked trends, maybe the playoffs are exactly what DeRozan needs to be activated against this style of defence. Maybe instead of getting frustrated he rises to the occasion, learns how to play through ceaseless physical play and takes the next step as an NBA professional. Getting to see the same opposition for four-to-seven games in a row might just help him figure out how to read those defences better, to see where the pressure is going to come from and to beat it before it arrives or to make the right pass a half-second quicker which forces the defence into scramble-mode to keep up.
via Can DeRozan Buck Raptors Playoff History? | Raptors Republic: ESPN TrueHoop Network BlogRaptors Republic: ESPN TrueHoop Network Blog.
Watching DeRozan, you would peg him for a heavy isolation scorer. But in fact, that's the fourth-most used set by the versatile wing, via Synergy Sports. He operates most out o the pick and roll. So then the question is, does he usually just shoot coming off the pick as a volume shooter? No, surprisingly. Of the 631 possessions he used the pick and roll, he passed it 247 times a pretty decent amount for a non-point guard. 
Why is this relevant? Not getting caught in isolation situations, and passing out of the pick and roll to take what the defense provides him with is going to be key. Defenses are likely to throw multiple defenders at DeRozan, shading him to the baseline and bringing another defender. If he can resist the urge to force shots in those situations, the Raptors' ball movement is good enough that they can find a quality shot. 
Against Washington, their likely opponent, the Raptors should put DeRozan in the high post relenlessly. Bradley Beal doesn't have the strength to guard him, and Martell Webster and Trevor Ariza aren't fast enough. DeRozan is a surprisingly great post scorer, and that could mess with their opponent's defensive spacing. 
But the pressure defenses apply in the playoffs is something DeRozan has never experienced. How he reacts could be the difference between an adorable run to the postseason by Toronto and a legit showing that they have a playoff team worth building upon. 
It appears some players are not entirely taking the All-Star voting process seriously

We've got all the scores, highlights and news for Thursday night

There were some weird discrepancies between the fan, media and player votes
LeBron and Steph will be the captains for the 2018 NBA All-Star Game

Arron Afflalo was involved in an altercation with Timberwolves big man Nemanja Bjelica on...

Fergie and Canadian rock band The Barenaked Ladies will sing their respective national ant...