Can things get worse for the Lakers?
So many things went badly for the Lakers last season. Is there any way it could be worse, with all the names they brought in?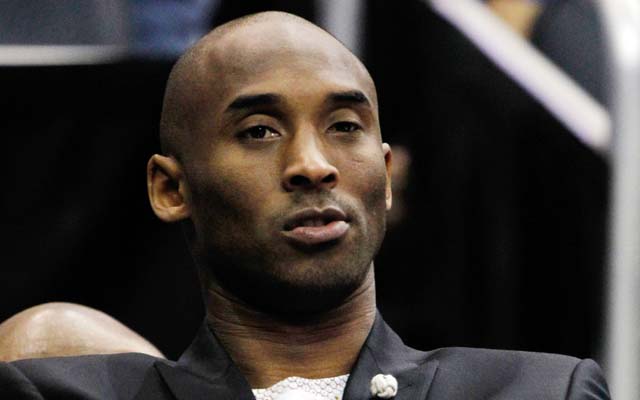 For more on the Lakers, check out our offseason report. 
The 2013-14 Lakers provided one of my favorite debates. Was it injuries, or were they genuinely awful? And what happens after an offseason when they answered few questions. 
The rearview mirror: On the injuries side, good grief. There's a point there. Three players played more than 70 games for the Lakers last season: Wesley Johnson (79), Jodie Meeks (77), and Jordan Hill(72) -- the three who were consistently healthy. 
Xavier Henry, who was a bright spot, played only 43 games. Jordan Farmar only 41. Steve Blake only 27. Pau Gasol, whose feet pretty much look like pumpkin pulp, was one of the healthier guys at 60 games. Steve Nash, only 15 and Kobe Bryant played only six. 
It wasn't only the big injury to Bryant, nor the spate of injuries. They overlapped. Before the Lakers pulled Kendall Marshall off the scrap heap, the Lakers were literally out of point guards. They entered the season three deep in pure points with a few more combo guards and still ran out. 
The most used four-man lineup for the Lakers last season was Pau Gasol, Wesley Johnson, Kendall Marshall, and Jodie Meeks. That group played in only 28 games (484 minutes). That's worse than the worst lineups Gasol played with when he was in Memphis. The lineup of Gasol, Johnson, Ryan Kelly, Marshall, and Meeks lead the team in games appeared-in, with 15 for 193 minutes, or 12.9 minutes per game.
But they were also really bad, finishing 21st in points per possession (offensive efficiency) and 28th in defensive efficiency. So while everyone pointed at Mike D'Antoni's typically awful defense (we'll get to him in a minute), they were bad at both ends. 
The Lakers were 22nd in points per possession in transition, according to Synergy Sports. They were 30th, or last, in scoring out of the pick and roll by the ball-handler, 21st in the post. (In D'Antoni's pick and roll offense, they were actually good when passing out of it, as roll men were 10th in points per possession, and when possessions where the ball-handler passed off the pick, they were 14th in the league).

The only way they were able to score was in isolation (eighth in the league) or spot-up (fourth in the league, shot 40 percent, with an effective field goal percentage -- factoring 3-pointers -- of 53 percent). Everything else, they were pretty terrible. And that isolation number is largely a product of the spacing D'Antoni's system naturally accommodates and the fact that so few players warranted help. 
On defense, they couldn't contain the perimeter. Once perimeter containment was lost, the interior defense didn't so much fall apart as it exploded into tiny pieces. They didn't contest shots normally easy to contest, and lost communication. It was a nightmare. 
The largest culprit in the public's eye was D'Antoni. The best that can be said for D'Antoni's performance last year was that he coached individuals well, leading to solid seasons for guys like Johnson, Henry, Steve Blake, and Nick Young. But as a units, there was almost no communication, cohesion or ability. D'Antoni is famous for not coaching defense in practice, despite his protests otherwise, and without All-Star players, the team was excruciatingly bad. 
But when things went right, the Lakers were at least decent. The problem is that when things went wrong, they went unbelievably wrong. They had the fifth-worst defensive efficiency in losses, right behind the Spurs ... who had 35 fewer losses. The only bottom-dweller comparable to the Lakers in losses defensively was Utah. 
Was it just D'Antoni? Will Byron Scott fix all this? It's possible, but not likely. 
GM Mitch Kupchak has tried to keep the Lakers' future open by not signing B-level free agents who would tie up cap space needed to acquire future stars. The result was a team that was selectively bad. 
For example, Young was one of LA's better offensive weapons, despite the absurd number of horrific shots he averages. But he was also their worst spot-up defender on the perimeter, allowing a 56 percent effective field goal mark when trying to close out. Kelly, a pet project of the Lakers, was one of the worst in the league at post defense, despite getting a huge amount of time on the floor. Hill also struggled here. The centers, though, did pretty well, which could help next season since the Lakers bolstered their power forward core. 
The point is that Kupchak built a team full of players who were selectively bad at key areas the team needed. Injuries took care of the rest.
One final note. It should be noted that among their 27 wins, the Lakers knocked off the Clippers, Hawks, Rockets and caught the Nets while they were still horrific early last season. Every team wins games it shouldn't based on talent and ability, but the Lakers' success in the first month of the season last year included quite a few that, even at the time, didn't make sense. 
Will the Lakers absolutely be better next season? You'd have to think so. The odds of another catastrophic string of injuries seem low, especially considering the sterling reputation of trainer Gary Vitti. They added Carlos Boozer, drafted Julius Randle, traded for Jeremy Lin who at least makes up for the loss of Blake or Jordan Farmar. 
They get Bryant back, likely with a huge chip on his shoulder, and brought back Johnson, Henry and Hill. Is that enough? 
On paper, if you assigned a value to each player from one to ten, even factoring for age from Bryant and omit Nash because of injury, your sum value is likely better than last season's. 
The problem is how Kupchak rebuilt the team on the fly after whiffing on Carmelo Anthony. Let's take a look
PG: Jeremy Lin, Steve Nash, Jordan Clarkson
SG: Kobe Bryant, Nick Young, Xavier Henry
SF: Xavier Henry, Wesley Johnson, (Nick Young, Kobe Bryant), Julius Randle
PF: Carlos Boozer, Julius Randle, Jordan Hill, Ryan Kelly, Ed Davis, Wesley Johnson
C: Robert Sacre, Jordan Hill, Ryan Kelly... um... 
At point guard you've got an inconsistent player who's had minor but considerable injury issues the past two seasons in Lin, Nash who is barely able to get on the floor, and a second-round pick who's probably more of a shooting guard. 
At shooting guard you've got a 36-year-old All-World player coming off two major leg injuries, a man known as Swaggy P who is likely their third-best player yet may not start, and then Henry, who may wind up starting or at least playing significant minutes at small forward. 
You've got some flexibility at small forward, especially if Scott goes small. You can start Bryant and Young, honestly. But that also essentially means you have to manufacture depth. 
Good news! You've got an army of power forwards, which was a tough position last season! Boozer may have defensive issues... OK, he may be bad at defense at this point, but veterans help you win, and Boozer's still got a lot of offense in his pocket. Of course, that means squashing the minutes for Julius Randle, but he's young, and having one guy to compete with for minutes should still mean... oh, what's that? Jordan Hill was also re-signed? And they added Ed Davis? OK, then. 
And at center, maybe Sacre can be the rim protector they need. Other than that... they may legitimately have worse interior defense than last year, which is kind of terrifying. 
But Scott will fix all that, right? 
Scott can coach veterans well. He showed that in New Orleans. Here's what he did with a rough-and-tumble young squad in Cleveland: 29th in defensive efficiency, 26th in defensive efficiency, 27th in defensive efficiency. 
So yeah, there's still some concern there. 
There's optimism based on the name value of the players the Lakers added and the raw boost that Bryant's return should add. Lin-Kobe-Boozer, is that good enough to improve on 27-55, in the infinity-misery gauntlet of the Western Conference, as long as they suffer no significant injuries and the team figures out how to manage an unbalanced depth chart? 
The big takeaway after this Lakers' offseason is that 1. they're still well-set to contend for the services of superstars in the future, and 2. there is just as strong a possibility of the Lakers being worse than last season this year, even if they're better on paper. 
Davis left the Pelicans' game against the Nuggets in the third quarter

Popovich was upset about an out of bounds call

Wall went 3-for-12 from the field, and had just eight points in the Wizards' loss
Noah was reinstated from his 20-game suspension on Monday, but is yet to play for the Knic...

In his first season with the Cavs, Rose has not played since Nov. 7

Keep it right here for all your Friday NBA scores, updates and highlights