Can't make it up: Olshey in, then out with the Clippers
Just days after the team announced he was staying, the Los Angeles Clippers and GM Neil Olshey parted ways Monday, and Olshey became the next GM of the Portland Trail Blazers. Can't make this stuff up.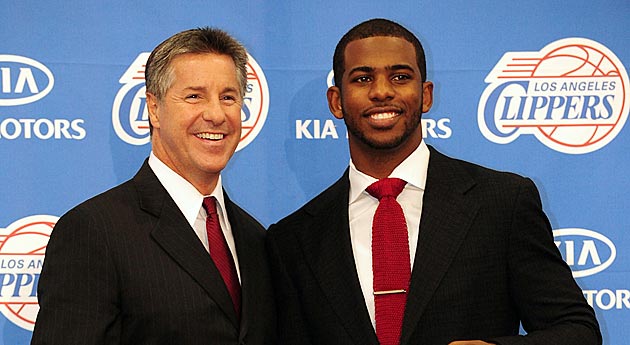 Neil Olshey, the man who pulled the trigger on the Chris Paul deal, bolts for the Trail Blazers. (Getty Images)
The NBA front-office merry-go-round took quite a spin Monday when Neil Olshey left the
Clippers
to become the general manager of the
Trail Blazers
.
Can't make this stuff up.
Just three days earlier, the Clippers had publicly announced they had an agreement in principle for Olshey to remain with the team. Earlier in the week, Olshey had been available to the media on a conference call to discuss the decision to pick up the option on coach Vinny Del Negro's contract for the 2012-13 season.
More on NBA
Related links
But Olshey declined to address his own future after CBSSports.com had reported that he interviewed for the Portland GM job. When pressed on the conference call about what was standing in the way of his staying with the Clippers, Olshey remained silent as a P.R. man stepped in and said the question had been "asked and answered."
Now, there are a whole lot more questions. Who replaces Olshey? And will that person be on board with retaining Del Negro as coach? Answers can't come soon enough for the Clippers, who cannot afford to squander what could be
Chris Paul
's last season in L.A. As part of a trade that sent Paul to the Clippers last December, he gave them a two-year commitment and can become a free agent after next season.
Olshey had been a stabilizing force for the perenially woebegone Clippers, making a series of shrewd roster moves and parlaying cap space and draft picks to land Paul. But he was one of the lowest-paid executives in the NBA at $250,000, and this was his second go-round interviewing with the Blazers.
Clippers president Andy Roeser already is conducting a search for Olshey's replacement, and until one is named, the day-to-day basketball decisions will be handled by Roeser, Del Negro and director of player personnell Gary Sacks.
The Orlando Magic's GM position remains vacant, with former
Hornets
GM Jeff Bower believed to be the favorite. Orlando is on track to have a GM in place with 7-10 days to spare before the June 28 draft, a person familiar with the process said.
Bower,
Pacers
exec David Morway, Olshey and Sixers exec Tony DiLeo had interviewed for the Portland job, which had been held down on an interim basis by Chad Buchanan since former GM Rich Cho was fired in May 2011 after less than a year on the job. Sources familiar with the process said Olshey almost didn't get an interview. Blazers advisor Bert Kolde, owner Paul Allen's right-hand man, arranged Olshey's interview. Clearly, Kolde's role in the process was important, since it was improbable at best that team president Larry Miller would hire a GM with the same agent as dethroned Portland executives Kevin Pritchard and Tom Penn.
Again, you can't make this stuff up.
So while the Clippers were supposed to have been gearing up for an important offseason to add enough pieces so Chris Paul and
Blake Griffin
can feel comfortable that these aren't your parents', grandparents', siblings' or drinking buddies' Clippers any more, instead, it's chaos.
Or simply put, it's the Clippers. 
Things are completely wild out West, while there's still quite the logjam in the East

Not everybody gets to play for their hometown team, but T-Mac did just that and he's a legend...

We have all the news, notes, scores and top plays from Wednesday in the NBA
A few years ago, George suffered a gruesome lower leg injury similar to Hayward's on opening...

Damian Lillard's 'Wakanda Forever' customs aren't for sale, but they should be

The plaintiff is alleging that the Hawks fired her for complaining about her allegations of...