Carmelo Anthony a natural fit as spot-up shooter for Team USA
It's not isolation, but Carmelo Anthony did a lot of damage for Team USA against Spain as a spot-up shooter.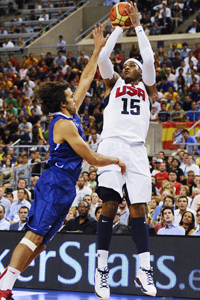 Anthony has been deadly from the perimeter.
(Getty Images)
You have to watch this team USA team and think, if you're a Knicks fan, how good would Carmelo Anthony be in this role? But of course, he can only be in this role when surrounded by the best, when his slot on the team's totem pole is fourth or fifth best. And even then, it's a challenge. 
In Team USA's 100-78 eventual run-away from Spain on Tuesday, Carmelo Anthony lead all scorers with 27 points. He was deadly from the field, hitting 10-15, and 5-8 from three. When Team USA started to click in the second quarter, it was behind Anthony finding catch-and-shoot opportunities. It was Anthony whose offense kept the team started to boil down. 
Every player on Team USA has a different set of responsibilities from what they're used to. Kobe Bryant is primarily a facilitator and decoy. LeBron James is both the center and initiator. Kevin Durant is a spot-up shooter. And Carmelo Anthony is developing primarily into a transition spot-up shooter. He burned the Spanish defense which would not get back to recover on Anthony in the corner. 
It's amazing to see what Anthony can do when he's just focused on shooting and not running or creating an offense. In New York, specifically under Mike Woodson, Anthony receivies the ball and is responsible for all decision making. For Team USA, his only job offensively is to knock down open looks and to attack the glass. 
It's part of what makes you realize how talented this team is, despite the absences due to injuries. Carmelo Anthony is sort of where he should always be, and yet will never be, because he'll never be surrounded by so many great players, not even in the star-studded new NBA landscape. 
Going forward, the balance Team USA found against Spain may be the formula they need. Bryant and LeBron James as facilitators and initiators, Kevin Durant and Anthony as spot-up shooters, Deron Williams for perimeter defense and Tyson Chandler roaming the rim. 
Watching Anthony receive all those drive-and-kick passes and his efficiency on open looks makes you think he could be deadly as that kind of weapon. If he ever were, again. But those days are long gone in New York. As it stands, Team USA is bringing out the best in Anthony.
McCollum hurled a clever insult at the French forward

Hosts Bill Reiter and Reid Forgrave are joined by Blazers guard CJ McCollum

Check back throughout the night for the latest updates from Monday's NBA games
Garnett has worked with Maker and says he is reminded of himself

It might be a good time to place a bet on the Boston Celtics

SportsLine's Mike McClure, a DFS pro with more than $1M in winnings, gives optimal lineup...