Carmelo Anthony and the Knicks deny dysfunction
With reports bubbling over about major team dysfunction and even that Carmelo wants to be traded, the Knicks answered for all of it Wednesday. Their take? None of it's true.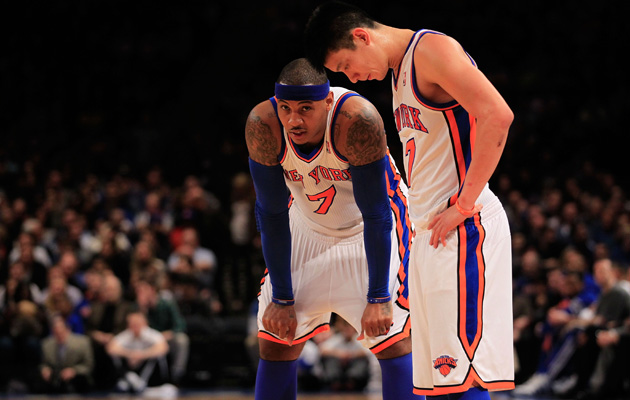 Carmelo may have denied all the chatter surrounding the Knicks locker room, but the wolf is at the door. (Getty Images)
Don't worry everyone, the Knicks aren't falling apart, the locker room still likes Mike D'Antoni and Carmelo Anthony doesn't dislike his teammates.
You know how we know this? Because the Knicks said so. Which we can all put under the "What did you expect them to say?" file.
With reports bubbling over about major team dysfunction
and even that Carmelo wants to be traded, the Knicks answered for all of it Wednesday. Their take? None of it's true.
Via NorthJersey.com
:
"No, no, no, no, let's nip this in the bud right now," Anthony said following the Knicks morning shootaround to prepare for Wednesday's meeting with the Portland Trail Blazers. "No. I don't know where that came from. I'm tired of hearing that. It came out this morning I guess an anonymous source. I'm tired of anonymous sources. I don't want to be traded. I don't know where that foolishness came from so let's put a cap on that and make it it's the last time I hear about that."
And more Melo:
"Guys came to me. I was texting guys on the team. 'What is this?' 'What are we hearing?' 'We don't what you to go nowhere.' 'Why is this being said?' Why this, why that. But nobody knows where it is coming from. It's funny that when we lose a couple of games in a row it's said I wanted to be traded. I've been through a lot of adversity in my career. I've never run from it and I'm not about to now
And more Melo:
"I support Mike 100 percent," Anthony said. "Regardless of what is going on as far as us losing basketball games we all need each other right now and this is the best time to come together and stick with one another because There's a lot of things being said out there about Mike, about myself and it's just a bunch of nonsense right now. So we've got to stick together. We're not going to do it without one another.

"We're definitely on the same page. Like I said, nobody is happy when you're losing games and the way we're losing games."
And for good measure, a Melo tweet:
Alright, enough with all this trade talk. It's making me sick to my stomach to hear that I wanna leave NY.

— Carmelo Anthony (@carmeloanthony) March 14, 2012
See? Everything's good! Except the Knicks are 2-8 since Melo returned and basically took a hatchet to Linsanity. Anthony admitted that he hears and reads what people are saying, and he admitted that stuff is hard to ignore. He also acknowledged his poor body language saying, "My body language, maybe it's a bad thing out there on the court."
In the end, it basically comes down to one thing: winning. Do that, and everything goes away. Trade speculation, locker room unrest, anonymous sources claiming team dysfunction. Nobody is writing a story that says, "The Knicks are super happy together, according to a source." Just win, and it goes away.
Problem is for the Knicks, harder said than done.
Butler suffered the injury on Friday night against the Rockets

The extent of Butler's meniscal injury isn't yet known, but there's reason for Wolves fans...

No timetable was provided for Butler's recovery
We've got all the scores, top plays and news from Saturday's NBA games

Galin Dragiev is on a 31-18 NBA run and just locked in a play for Thunder vs. Warriors on...

SportsLine's Mike McClure, a DFS pro with more than $1M in winnings, gives optimal lineup...