Carmelo Anthony has bodyguard accompany him to Boston
Knicks star Carmelo Anthony has a bodyguard for Thursday night's game against the Celtics.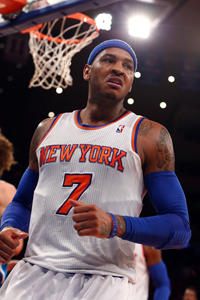 Carmelo Anthony.
(Getty Images)
With Carmelo Anthony in Boston for the first time since he and Kevin Garnett got into a heated argument both during and after a Knicks' loss to the Celtics earlier this month, security is expected to be tighter. Boston fans smell the proverbial blood in the water and Anthony can expect a healthy dose of abuse even higher than the standard Celtics fare.
And although most of it will be verbal, there's always the concern of things going too far. As a result, Anthony is bringing his own personal bodyguard to the game. From the New York Daily News:
It is not uncommon for superstar players, Kobe Bryant for example, to have their own security detail. The Knicks employ two security guards that are with the team at all times, and Anthony's bodyguard occasionally travels to road games.

Thursday's nationally televised Knicks-Celtics game is the first meeting between the teams since Jan. 7 when Anthony, reportedly upset that Garnett made a disparaging comment about his wife, confronted the Boston forward outside the Celtics team bus. The NBA suspended Anthony one game for his actions.

The reason for the extra security has nothing to do with Anthony possibly crossing paths in the hallways but rather the hostile crowd that awaits him at the Garden.
I've seen Melo's bodyguards. They are terrifying. Let's just say no one's going to be running up on him. And you can't blame him for bringing one. Boston fans are cuh-ray-zay. Even more than most fans.
But the atmosphere is going to be intense. This is a big game for Anthony, an opportunity to shut up Garnett and everyone in that crowd, or to fall victim to a Boston crowd that knows its team needs something to spark its season.
For more on Thursday's game, check out the 4-Point Play.
Westbrook's late layup gave the Thunder a 109-108 victory

LeBron became the seventh player in league history to reach the milestone

There were a few things that stood out from Tuesday's All-Star selections
Here are three players from each conference who had legitimate claims to make the game

LeBron achieved the milestone in the first quarter Tuesday

Here are the full lineups for the 2018 NBA All-Star Game