Carmelo Anthony has decided to re-sign with the Knicks
Carmelo Anthony is staying with the New York Knicks, as they've thrown a lot of cash at the second best free agent on the market.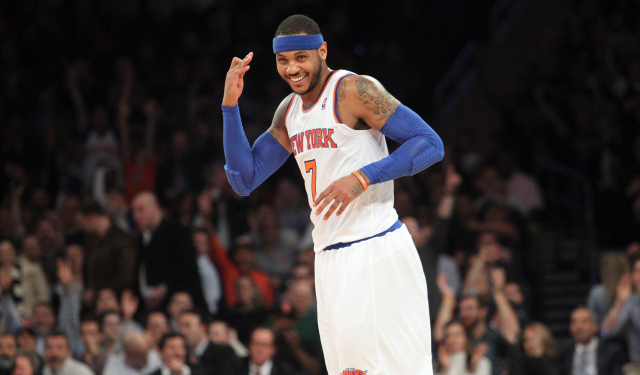 More Offseason Analysis: Coaching changes, news | Free Agency | Draft
The first big domino in free agency fell on Friday when LeBron James chose to return to the Cleveland Cavaliers over re-signing with the Miami Heat. Now the other big free agent has made his decision. Ken Berger of CBSSports.com has confirmed reports that Carmelo Anthony will re-sign with the New York Knicks. Anthony is expected to receive a five-year, $129 million contract to stay in New York as he remains the centerpiece around Phil Jackson's vision for rebuilding this roster into less of a joke and more of a contender. 
League source confirms to @CBSSports that Carmelo Anthony has decided to re-sign with the Knicks. "Melo is staying," the person said.

— Ken Berger (@KBergCBS) July 12, 2014
Anthony's decision to stay could be viewed as a money grab, considering he's earning $30 million more than anywhere else he can sign. With the Knicks being such a disaster last season due to coaching problems, roster issues, and injuries, it doesn't seem like the team is in any position to contend because they aren't. But just a year prior to the disasterous season, Anthony led them to 54 wins and the second round of the playoffs. There isn't any roster flexibility this season, unless a team is willing to take the contracts of big men Amar'e Stoudemire and/or Andrea Bargnani, but Jackson's vision for the future could be a quick turnaround after the 2014-15 season.
For Carmelo, he'll likely have to endure a transition period of next season as they implement Derek Fisher as coach and the triangle offense as the new weapon of choice. It will be a far cry from the isolation basketball that ran wild over the Knicks' game plan on the floor the last two seasons. If Anthony buys in, the rest of the roster will buy in and the ball sharing could turn the Knicks' talent from wasted into weaponized. Carmelo has to buy in and continue to buy in throughout the season.
He averaged 27.4 points, 8.1 rebounds, and 3.1 assists last season for the Knicks. He made 45.2 percent from the field and a career-high 40.2 percent from 3-point range. The Knicks won just 37 games though and missed the playoffs by one game to the Atlanta Hawks.
Griffin was traded to the Pistons in a blockbuster deal ahead of the trade deadline

Billups, who starred for the Pistons from 2002-08, currently works for ESPN

Adam Thompson has his finger on the pulse of the NBA and just locked in a play for Tuesday
The four-time All-Star has his eye on playoff success and doesn't mind rubbing people the wrong...

Forced to show off his new tattoos in Lithuania, the 19-year-old Ball feels the wrath of L...

Luckily for Gerald Green, his teammate Chris Paul offered to pay the hefty fine