Carmelo Anthony hasn't told Knicks he's coming back
A report indicated that Carmelo Anthony had made up his mind, but he has not told New York this.
• 2 min read
More Offseason Analysis: Coaching changes, news | Free Agency | Draft
Carmelo Anthony has not informed the New York Knicks that he's re-signing with them, a source told CBSSports.com's Ken Berger. 
Knicks have no reason to believe Anthony is going anywhere but New York, source says. Team just has not been told of decision.

— Ken Berger (@KBergCBS) July 9, 2014
Frank Isola of the New York Daily News reported that Anthony will announce on Thursday that he's staying in New York:
A person close to Anthony told The News on Wednesday that barring a last minute change of heart Anthony will re-sign with the Knicks after "agonizing over this" for the past week.

"He will have something for everybody on Thursday," said the friend who was with Anthony before Anthony's scheduled workout with Kevin Durant and Kevin Love in Los Angeles on Wednesday. "He is really torn because this is the biggest decision of his career. But he wants to get it done in New York. He told me he believes in Phil."
Anthony reportedly wants LeBron James to join him, but that might not be the most realistic scenario.
Several days ago -- and maybe it's changed since but... -- 'Melo hadn't even been able to reach LeBron James, sources tell Yahoo.

— Adrian Wojnarowski (@WojYahooNBA) July 9, 2014
The star free agent forward has reportedly been offered a five-year, $129 million maximum contract by the Knicks. He was also reportedly considering the Los Angeles Lakers and Chicago Bulls, and his agent, Leon Rose, told ESPN's Ramona Shelburne that Anthony has not yet made up his mind. The Daily News, however, reported that he wants to stay where he and his family are comfortable.
Anthony's friend says that Anthony prolonging his decision is not a reflection of him having second thoughts about the Knicks. Instead, it was Anthony wanting to be sure that he could put himself in position to win a championship.
This is where things get tricky: New York went 37-45 last season, failing to qualify for the playoffs in a weak Eastern Conference. Knicks president Phil Jackson wants to add other stars to the team, but that likely will not happen this offseason. New York will reportedly pursue Pau Gasol, but that move wouldn't exactly make the team into a contender. Instead of going to a ready-made team, deciding to stay in New York would be a risky bet on Jackson, in time, surrounding him with the pieces necessary to truly compete.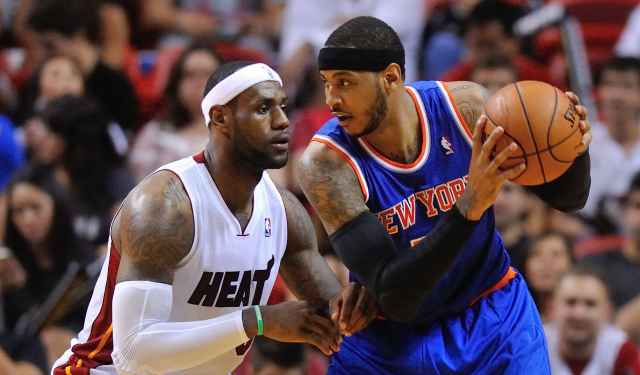 There's no shortage of moments to choose from

The Trail Blazers almost traded for Charles Barkley, but when they didn't, it put them in debt...

The self-proclaimed ASG snub Williams may be bitter about Butler requesting to sit out Sun...
The commish said they were overly conservative with the decision this year, but that should...

A dive into the NBA history books for every result from every NBA All-Star Game

James set the tone during practice that this year's All-Star Game was going to be differen...