Carmelo Anthony holds players-only meeting for Knicks
The first players-only meeting of the year! And surprise, surprise, the results were "good" as Melo tries to get New York back on track.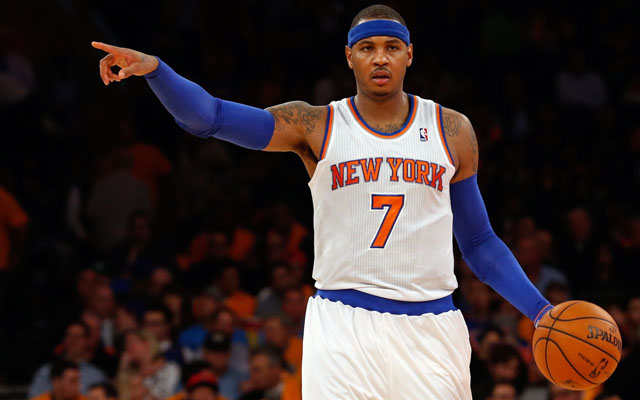 If you had "The New York Knicks" in the pool for "first team to hold a players-only meeting in a desperate attempt to right the ship," congratulations! From ESPN NY:
New York Knicks star Carmelo Anthony questioned his team's effort in a players-only meeting following a loss to the Charlotte Bobcats on Tuesday.

"We shut the door after the game and talked it out a little bit and tried to figure out what was happening," Anthony said Friday.

Anthony's message to his teammates was direct.

"We've got to want it, we've got to want to do it. We've got to believe in ourselves, and right now we're playing like we don't even believe in ourselves," Anthony said. "It's just effort."
via Knicks held players-only meeting - ESPN.
The Knicks are only 1-3. Back-to-back wins and they're fine. The issue is that they look like a train wreck. They're digging big holes by playing big lineups, a plan that can either be shelved with Tyson Chandler on the shelf with a leg fracture, or made worse by going big with inferior forwards and centers. They have the 23rd-ranked offensive efficiency (points per possession) in the league. Surprisingly, their defense is ninth in efficiency, but then, they've played Milwaukee, Chicago, and Charlotte along with the Wolves. 
There's serious trouble here. 
The Knicks were a gangbusters team last year because they tossed up a record number of threes and had an unbelievably low (dare I say unsustainably) low turnover rate. Those numbers aren't holding up this year and the results have not been good. 
But Melo taking the leadership role here is good. It's what's needed, a strong voice from the alpha dog on the court to get everyone focused. That can bring short-term boosts enough to stabilize things. Additionally, the Knicks get J.R. Smith back following Friday night's game in Charlotte. They can turn this thing around, if they can just get back to what lead them to such regular season success last year: hot shooting. 
It would also help if the Knicks shared he ball more; they're tops in the league in percentage of time spent in isolation sets according to Synergy Sports and.... you know what? You know all this. They're not changing. It's a make or miss league, and the Knicks need makes more than most teams. 
T.J. Warren gets paid big money by the Suns in a four-year deal

Melo didn't hold back on his feelings about President Donald Trump and urges for help in Puerto...

The Wizards star says the NFL won't change until important players like Brady and Rodgers speak...
Popovich spoke at length about sports, race, culture, and politics during Spurs media day on...

Carmelo Anthony finds the idea of coming off the bench very funny

Several teams spoke about Trump's recent comments about protests and the Warriors' White House...